Visiting London while the Queen lays in state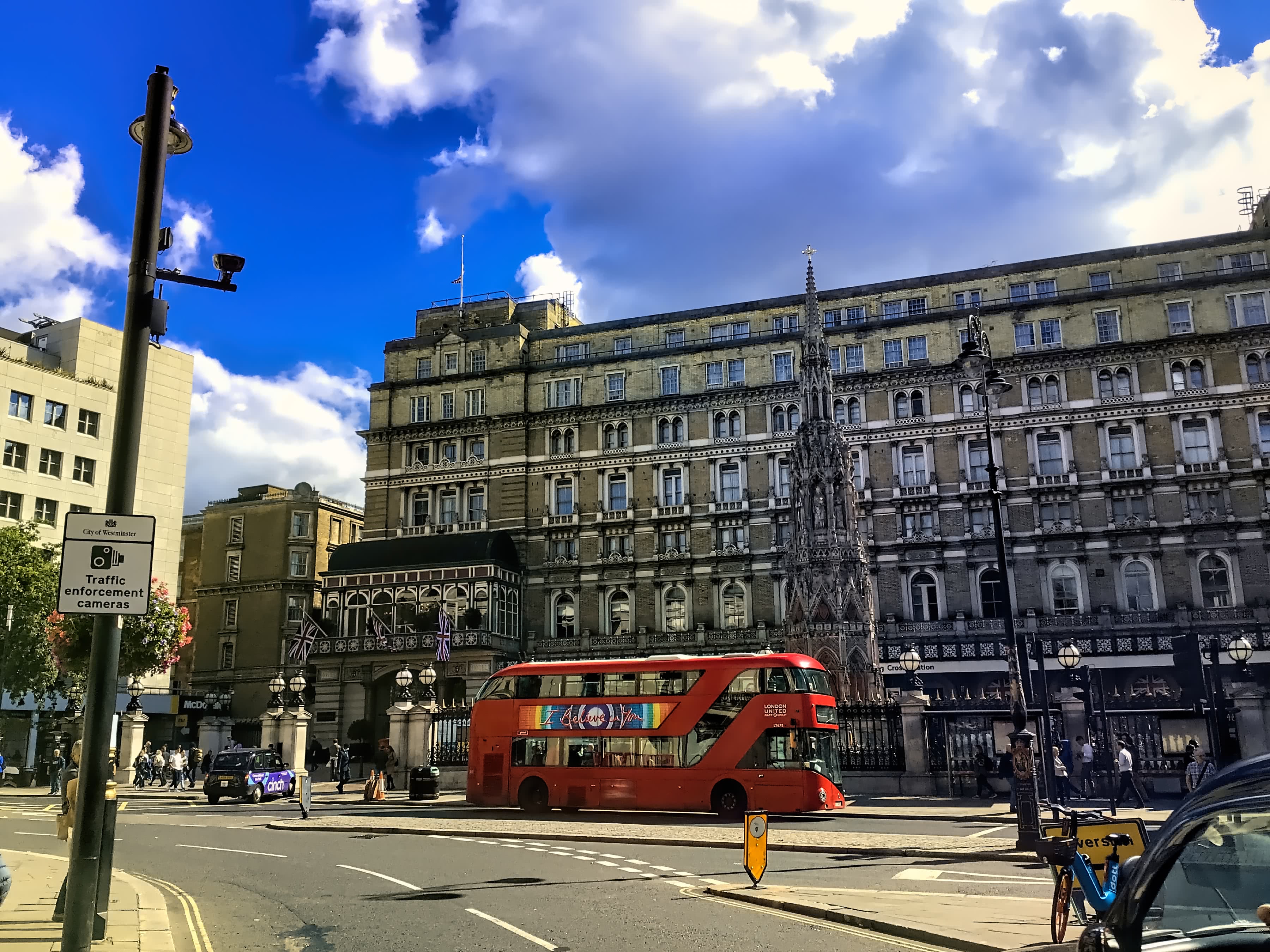 Queen Elizabeth died on September 8, 2022. We already had a trip to London planned for the middle of our Manchester trip from September 16-18. The dates worked out to be two weeks after leaving Switzerland and two weeks before we left England so we could space out our travel. But it just so happened that people would be paying their respects to the queen while she "laid in state" for all three days we'd be there. And then her funeral would be the day after we got back to Manchester. Oh well, we'd already made our reservations so it should be fine.
We did wonder if we should try to see the queen during our trip. Definitely a unique experience we could have as part of our trip. We heard people had been lining up in advance, for as long as five to eight hours. Love you queen, but we won't be doing all that! It was actually pretty crazy because as we pulled into Euston station it was accounced that the line would take 10 - 14 hours to get through, and then a few hours later it changed to be up to 24 hours and no more people were allowed to enter the line. Whoa!
We have friends in Manchester, Steven and Lucy, and they had given us plenty of ideas of how to fill our weekend there instead of lining up for her majesty. Neil had actually traveled to the UK a few times back in his Tricycle days so he knew the big landmarks and had seen a couple of them before. Having never had the chance to go, I knew my London sites from watching the Friends episode when Ross and Emily get married. I'm glad I started looking into the suggestions from our friends because there were places called "garden", "circus", etc and none of them were what we'd expect.
Friday
We had to leave early that morning to catch the train so we didn't have time for a proper breakfast, that meant we were starving upon arrival. We took a quick stroll by the University and made our way to Covent Garden (not a garden but a shopping district with restaurants). Always wanting to try something new, we went to an Iranian restaurant called Dishoom. Such a cool vibe with chandeliers, dark wood furniture and antique toilets. And yes, they had breakfast and it was delicious!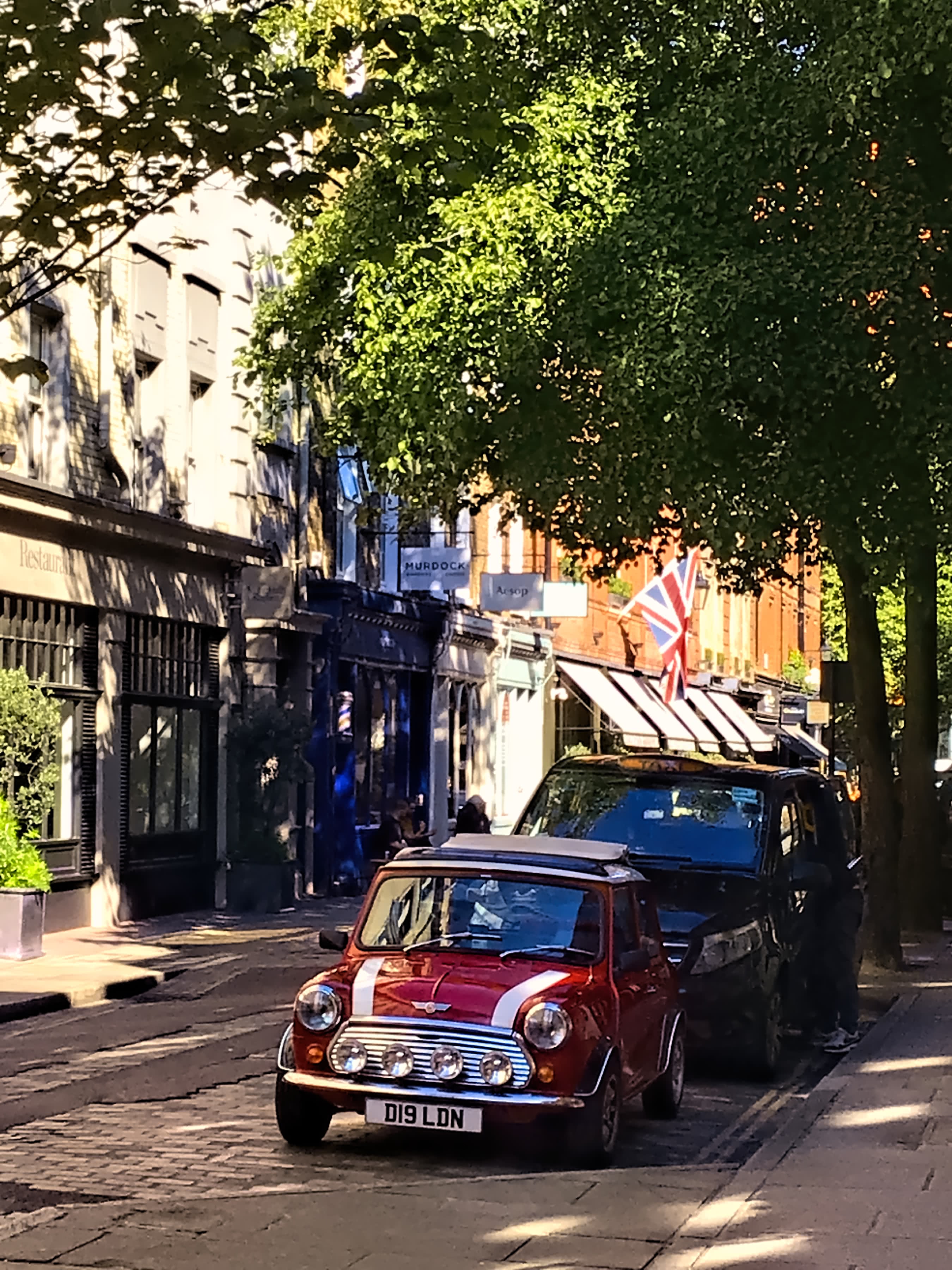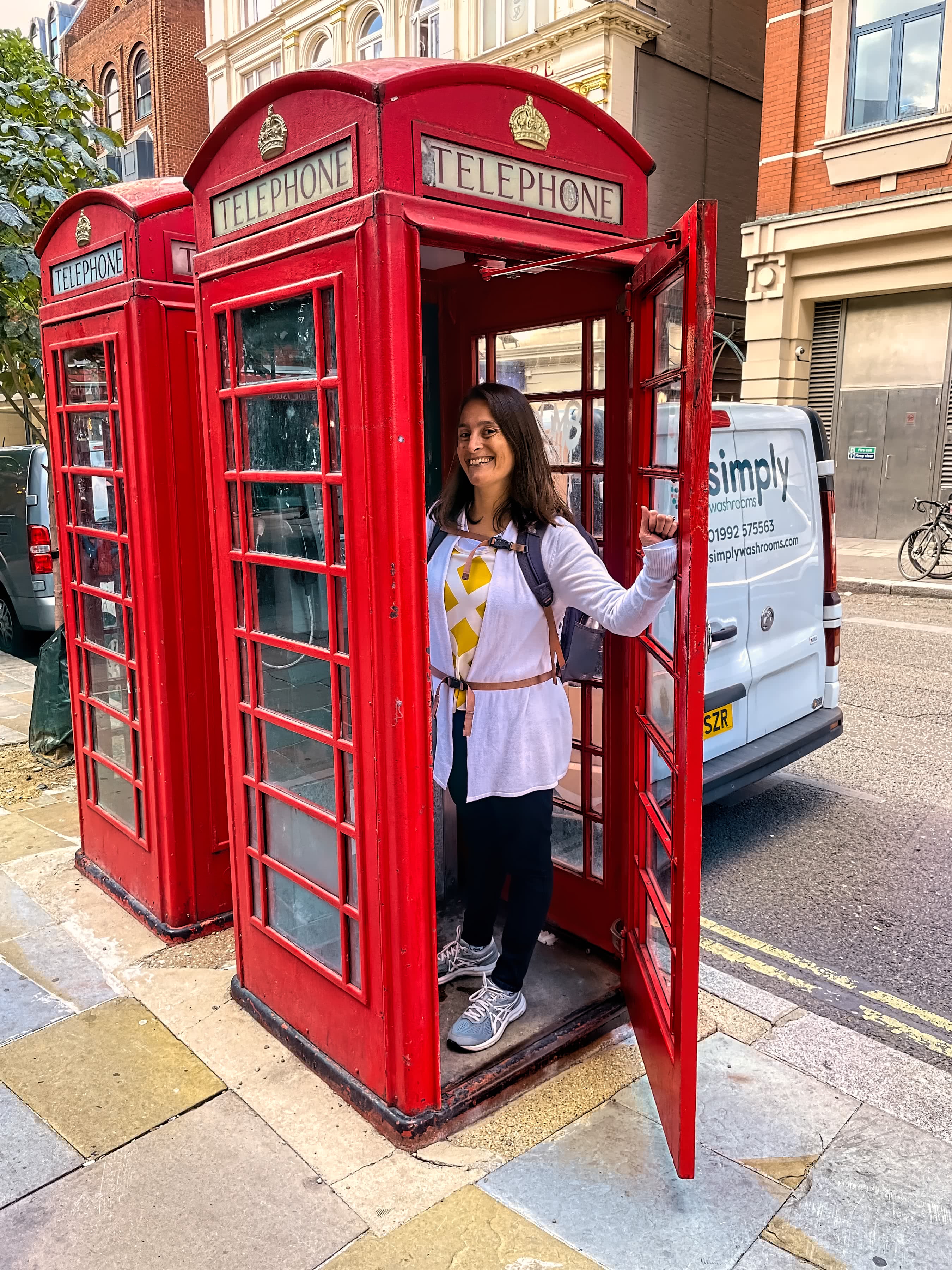 Once we were fed and continued on, we started to see evidence of the crowds there to see the queen. There were camera crews rolling around equipment and our next stop, Trafalgar Square, was all barricaded up and closed off to the public. Oh well, we snapped a few quick pics and moved on to our next stop. We knew things would be busy at Buckingham Palace so we'd see the landmarks starting with Parliament, then Big Ben, Westminster Abbey and then end at the Palace. We figured we might miss some of the crowds this way.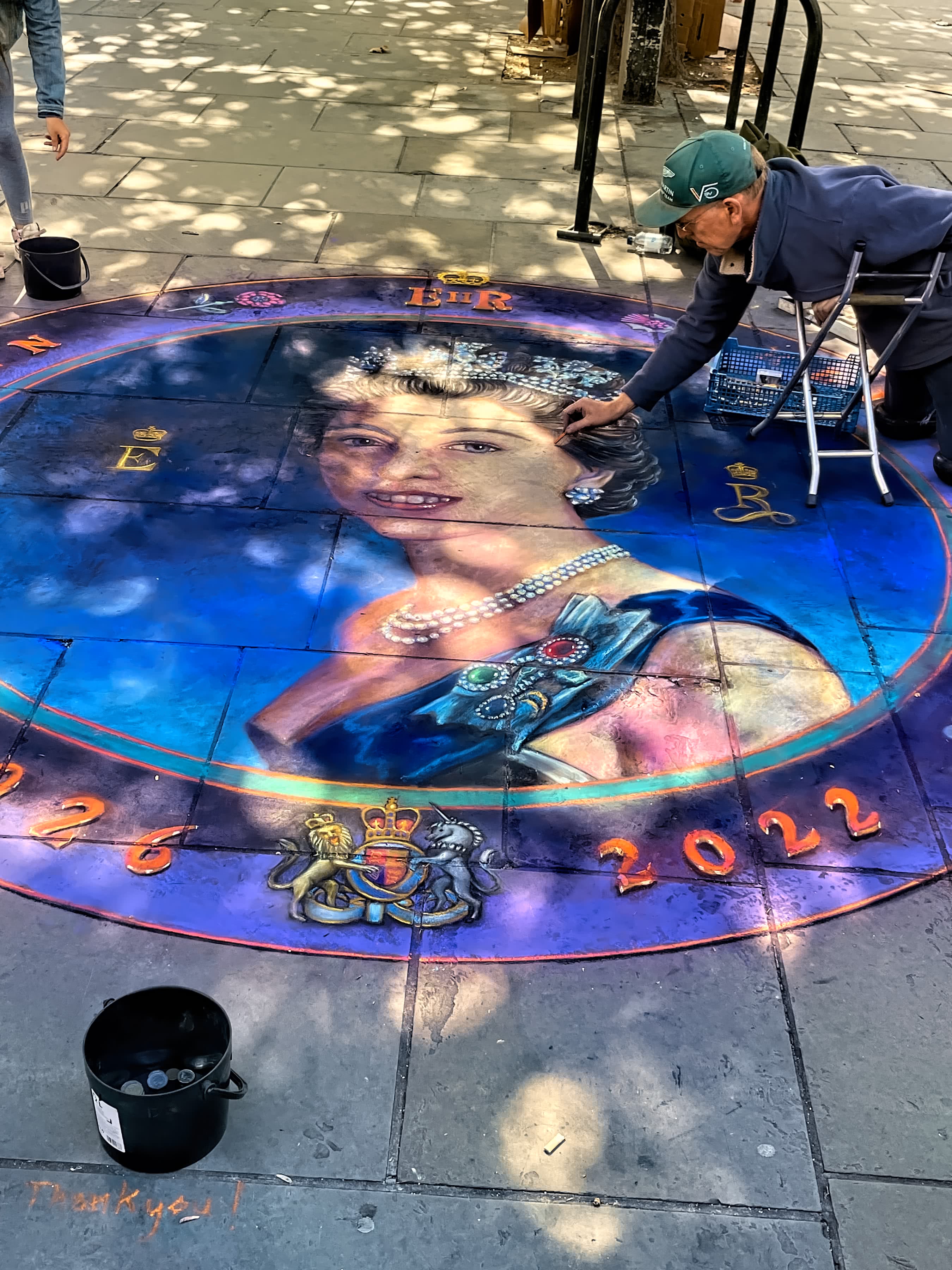 It's a good thing we came up with this plan because that was the only allowed flow of traffic and once we were at Big Ben we began being herded like cattle from site to site. So yes, our trip was affected but we did get to stop and look at all the places. I didn't realize that Big Ben is connected to the Parliament building so they were pretty much two stops in one. Unfortunately Big Ben was closed to the public but that was due to Covid, not the queen. And Westminster Abbey was closed off in preparation for the funeral (but spoiler alert, when we watched it on tv on Monday, we got to see it all then).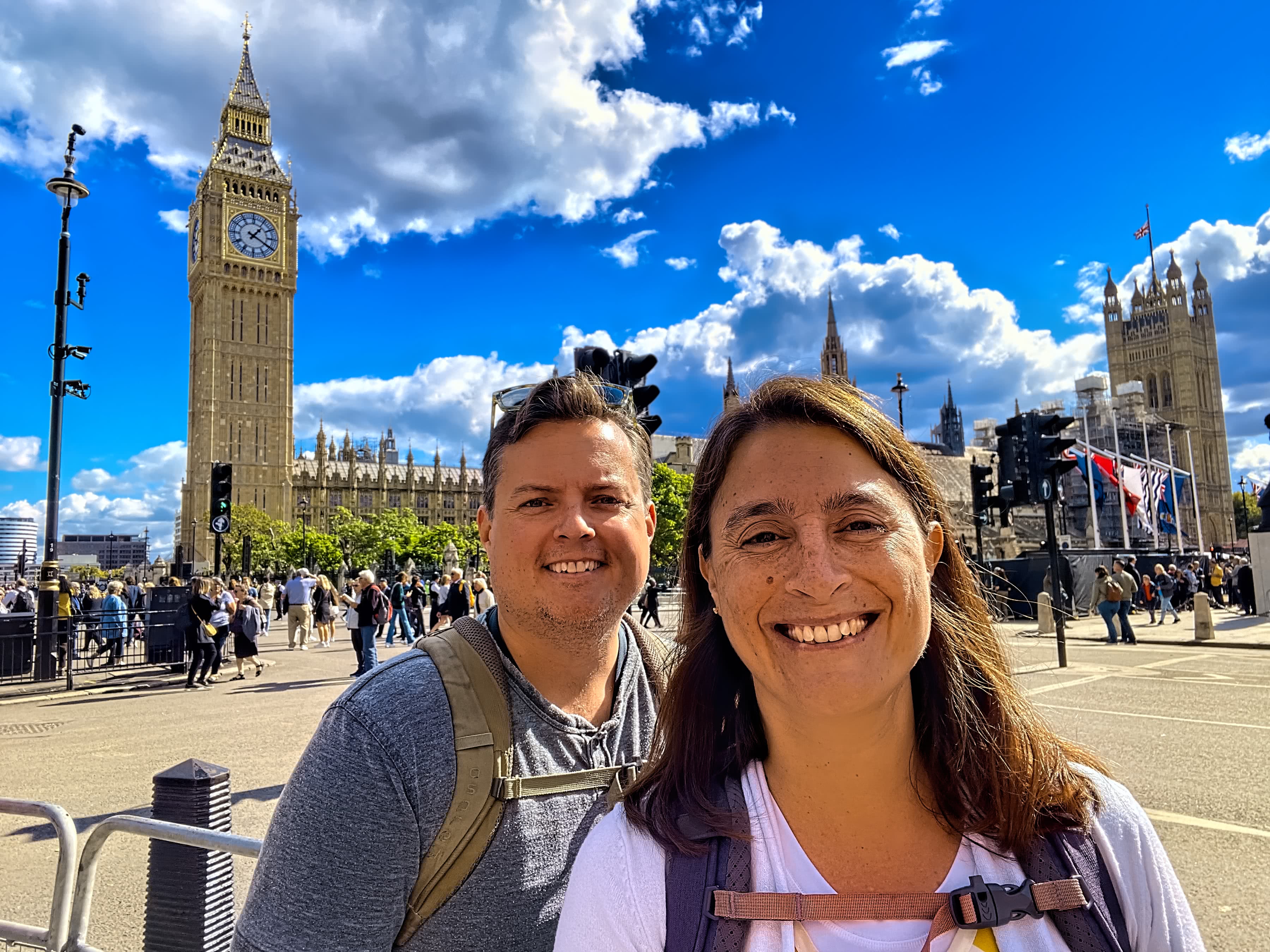 We still were able to see all the buildings and take our selfies for proof that we were there. From what I understand, Westminster Abbey is actually a collection of buildings not just one church and we did get unobstructed views of the white building that was where the funeral actually took place.
On the way to Buckingham Palace, we went though Green Park, which is where you could go to lay your bouquet of flowers for the queen. The lines were thick going through there! And if you wanted to go against the flow of traffic, it wasn't possible so you better not try as there were police officers with their British hats watching you everywhere you went. Near the Palace there were tons of tents set up for different news channels and we even saw a broadcast taking place. Luckily we did get to walk by the palace gate, take a few more pictures and then follow the crowd to wherever else it would lead us.
We knew the river was close by so we attempted to get over to the water's edge to see the London Eye but there we found the line of people to see the queen (it actually circled around the entire city). We'd be going to the Eye the next day so we decided it was time to leave the crowds and continue somewhere else.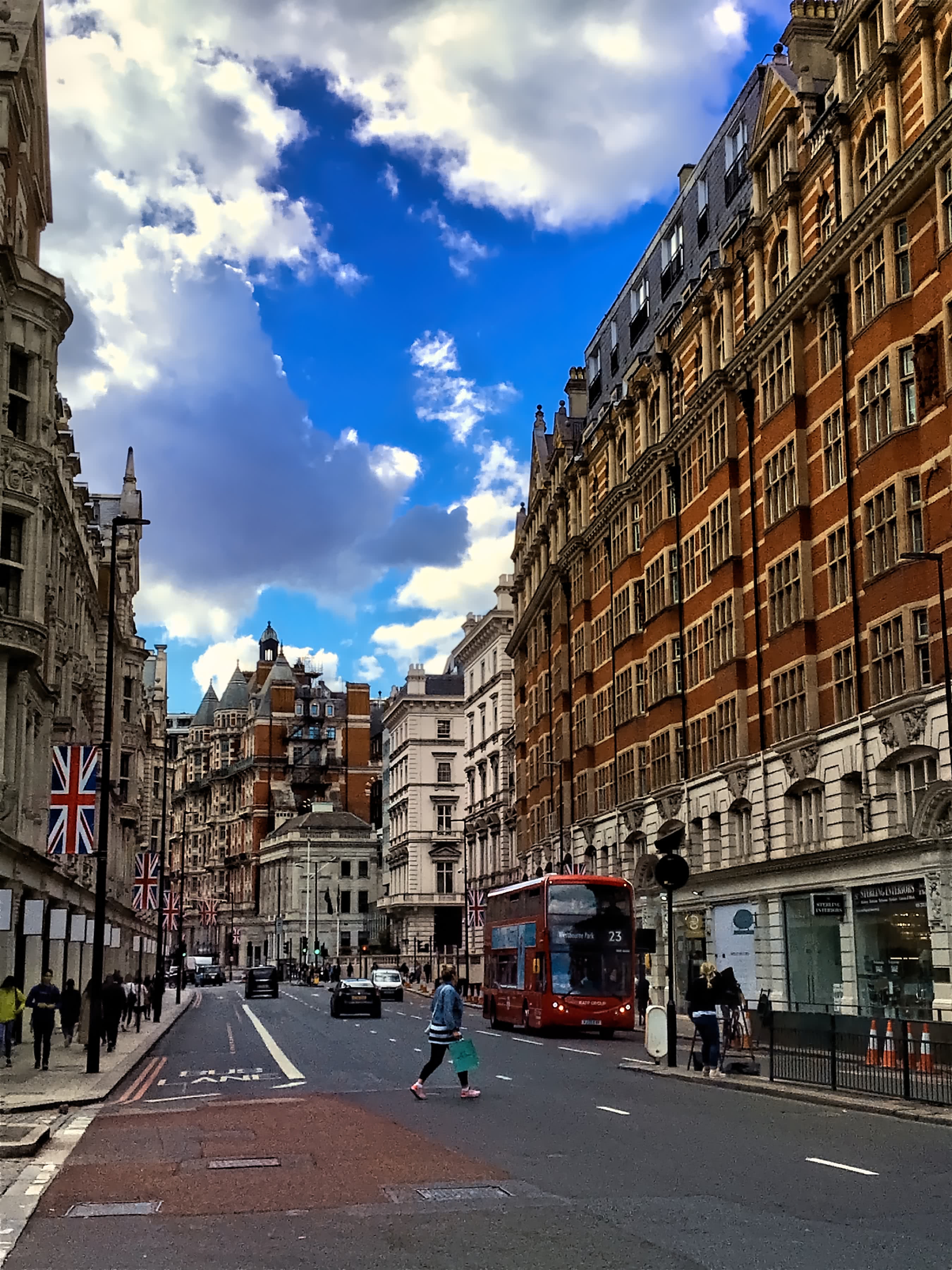 Have you ever heard of the Knightsbridge area? We hadn't but Lucy suggested that we go there so we could see the enormous department store, Harrods. Sounded like a good way to escape some of the queen traffic, so we made our way over. Off in the distance I could see a large building that looked "important" and come to find out it was Harrods. To be honest, we went in to look for the public bathroom. We saw all kinds of purses, jewelry, etc by Cartier, Fendi, Faberge, Gucci, etc. but didn't find a bathroom so we decided to leave. 😂
We had been doing a lot of walking, and it was time to eat, so food was on our minds. Neil found a restaurant with tea and cakes so we headed there next. We walked by ridiculous homes with vehicles such as Ferraris, Bentleys, and Rolls Royces parked in front. Also many grand entranceways that were unbelievable! Apparently that's what you go to see in Knightsbridge.
And when we arrived at the place for afternoon tea, I knew I'd be enjoying myself. Not only was there a beautiful display of cakes and other prepared foods, there were flowers on the tables and hanging from the ceiling. It was all around pleasing to my senses. We sat, relaxed and rested our feet, and in a little while we were ready to go find our AirBnB so we could have a few hours off from all our tourism.
Once we rested up and watched a little tv, we were ready to eat again. Of course, you must have suspected that. We were only a short walk from the Battersea neighborhood where they had a big outdoor food hall with all kinds of restaurants. Looking for something hearty and warm, we came across Tonkotsu Ramen Bar. Just what we needed! And they were really aware of food allergies so they made Neil something fresh and separate from everyone else's food. As we walked back, we crossed a bridge and could see the sunset off in the distance. Would you believe we walked 10 miles that day? Well we did so it was an early night for us! We'd be doing it all again tomorrow after all.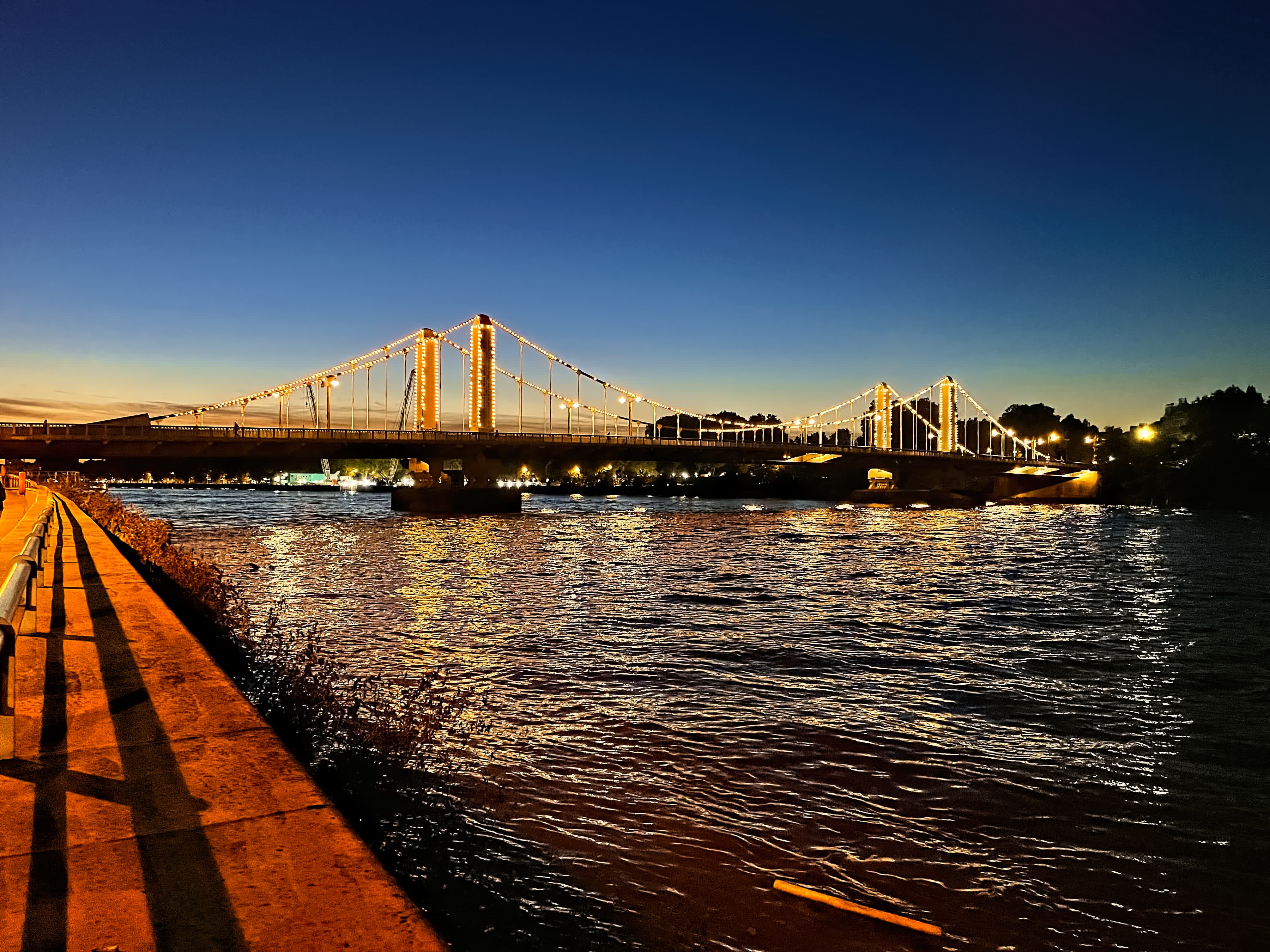 Saturday
We headed over to Notting Hill on Saturday to see the Portobello Street Market. We knew there would a lot of people there too but at least we'd be able to move around at our own pace. We found directions to take the bus over and it would take about 45 minutes. No problem for us, we're used to riding the bus.
We arrived hungry but we know that markets always have all kinds of food vendors, so we were on the prowl. There was a beautiful, hearty, potato meal being prepared so we planned to come back in a bit once it was all cooked. In order to hold us over, we grabbed a few churros and some coffee.
It was definitely a hip neighborhood that reminded me of Haight Ashbury in San Francisco. The market was really cool too, there were so many different things for sale. Tons of old cameras, cigarette cards that were matted as artwork, t-shirts, records, books, trinkets, antiques, etc. And the more you walked, the more it continued, which made me search out more food. This time a donut for me and a gluten free treat for Neil.
Of course, I've heard of the movie Notting Hill with Julia Roberts but I didn't remember any of it. I thought it would have been fancier but Neil said I was mistaken. He recognized some of the parts where Hugh Grant "walks through the seasons."
After spending a few hours, we made our way over to Hyde Park, which is kind of near there. The first part of the park that we found was Kensington Garden. We didn't have anything specific in mind to see so we just kind of meandered around. We came upon a duck pond and there were like a million birds there. Then we found a huge golden statue that was a memorial to Prince Albert. This was one of my favorite parts of the trip. The statue was so ornate and there were marble casts representing each continent on the corners.
It wasn't very warm out at this point so we decided to walk a little more to see what else was around. Then we came over to the Princess Diana fountain which was designed to look like a river. It's apparently pretty popular because there were tons of people walking through it. We'd never seen a fountain like this before!
Then it was time to head over to the London Eye, which we had purchased tickets for in advance. Our time slot was at 4pm so we had plenty of time but after seeing the crowds and the queen's line yesterday we chose to take the London Underground (the Tube) to get there. Luckily the subway would bypass all the visitors to Buckingham Palace!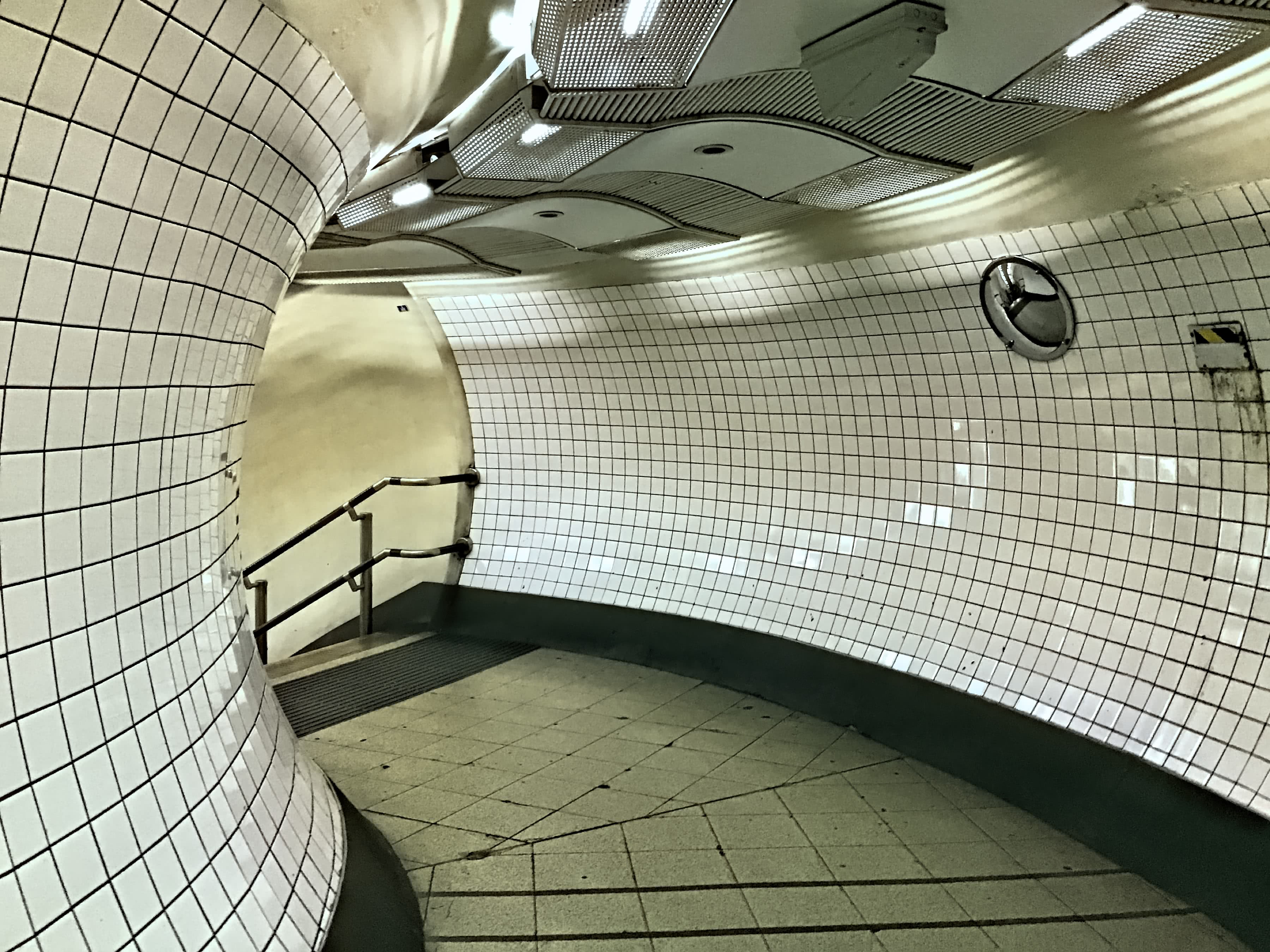 The Eye is the big Ferris wheel and it's located on London Pier. Neil remembered visiting the Pier with Randy when he was there for work but they didn't have time to do anything besides grab dinner. This time we'd go on the London Eye, despite my fear of heights. I could see that the cars were enclosed and are actually so big that you can sit on a bench in the middle or stand over near the window. The line went pretty quickly and the views from it were terrific. Other than the part on the very top, I felt fine, so that's another London landmark checked off the list. We even found a cool coin souvenir to add to our collection.
On the map, the London Bridge seemed "close" or at least in the neighborhood of where we were. During our walk over, we came back in contact with the queen's viewing line. This time we were walking against it and we were allowed! It was such a long line! We applauded the people's dedication to stand in a line for so long to see the queen. But to be fair, she was queen for 70 years so I guess it's well deserved.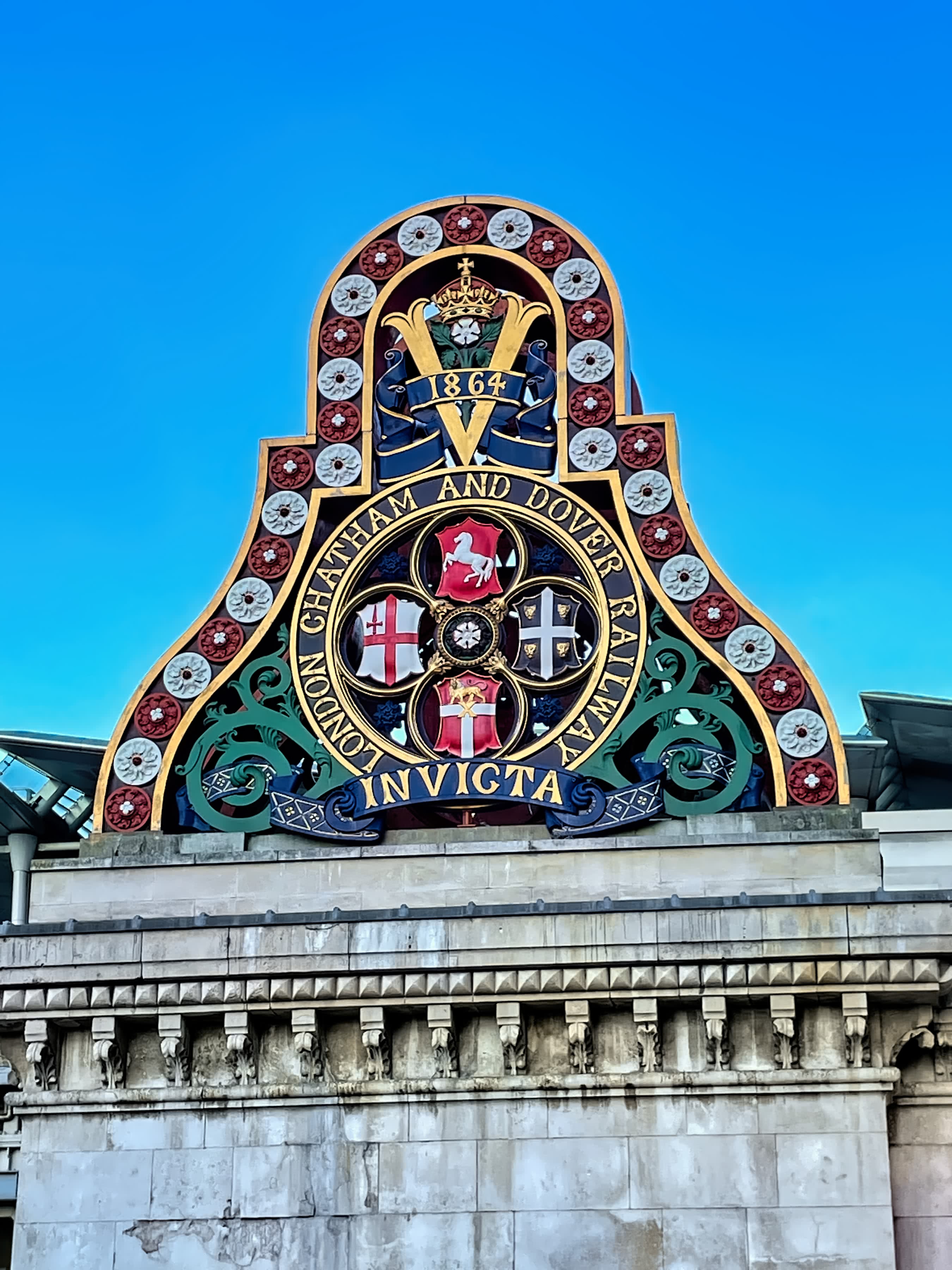 We walked and walked and walked, eventually passing by the Globe theater of Shakespearean fame. Apparently it was rebuilt in recent history but it looked like what I've heard of. Then we saw where the London Dungeon was and passed by a big old ship. These are all located near City of London, the financial center.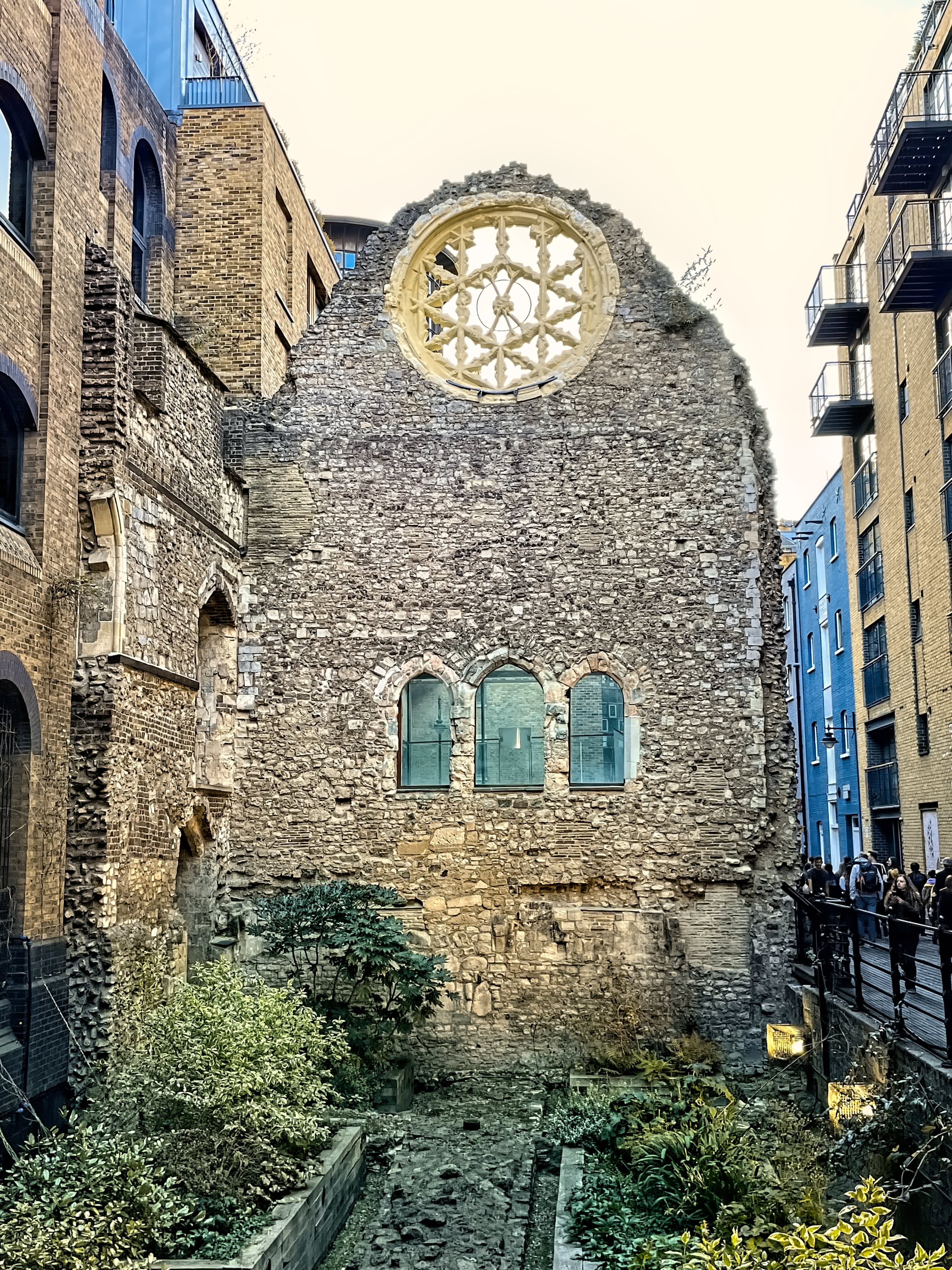 We were trying to get to the site of London Bridge, you know "London Bridge is falling down." Come to find out, it did fall down and was rebuilt quite a few times throughout history. But just to be sure, we did a quick Google Search and found out the bridge we wanted to find was Tower Bridge. This is the one that's the landmark. We were almost there but found the Tower of London first. They house the crown jewels there so I'd guess it was probably closed that day too.
Off in the distance, we could finally see Tower Bridge. More landmark selfies but Neil had hoped to walk on the bridge so we had a little more ground to cover. Right next to the steps to enter the bridge, there was a vendor selling street nuts. The aroma was so good, we couldn't resist and it had been few hours since we had last eaten. The bridge was pretty amazing so we were both snapping photos all over. In total we took 70 pics but that's inevitable when it's sunset and a landmark!
We were so tired by the time we finished on the bridge. It seemed like a good time to stop and eat so we found a restaurant close by. They had wine, and a cheese platter too. This would be our dinner.
Our feet were so worn out by this point, but can you believe that we walked even more this day, 11 miles in total! So we decided to take the Tube again in order to take it easy on ourselves. Unfortunately we had to use the force to figure out where we were going since the battery on our phone quit just as we boarded. Luckily we had some idea of where we were going. And I used my rainman mind to summon up our street address at the AirBnB. Thank goodness we found a nice guy at the final station and he helped us figure out how to get back.
We wouldn't be having any trouble falling asleep that night!
Sunday
Sunday was our final day and we decided to start a little slower that morning. Luckily we had found some oatmeal at a little shop on our way back Saturday night. After breakfast at our place, we gathered all our stuff into our backpacks and headed out.
Our first stop that day would be Piccadilly Circus (and no it's not the circus that you and I know). At the crosswalk where we stopped to look at some of the billboards, we met some tourists from China. They took pictures of us and we returned the favor, then we took a picture with all of us! What fun meeting new people when we travel!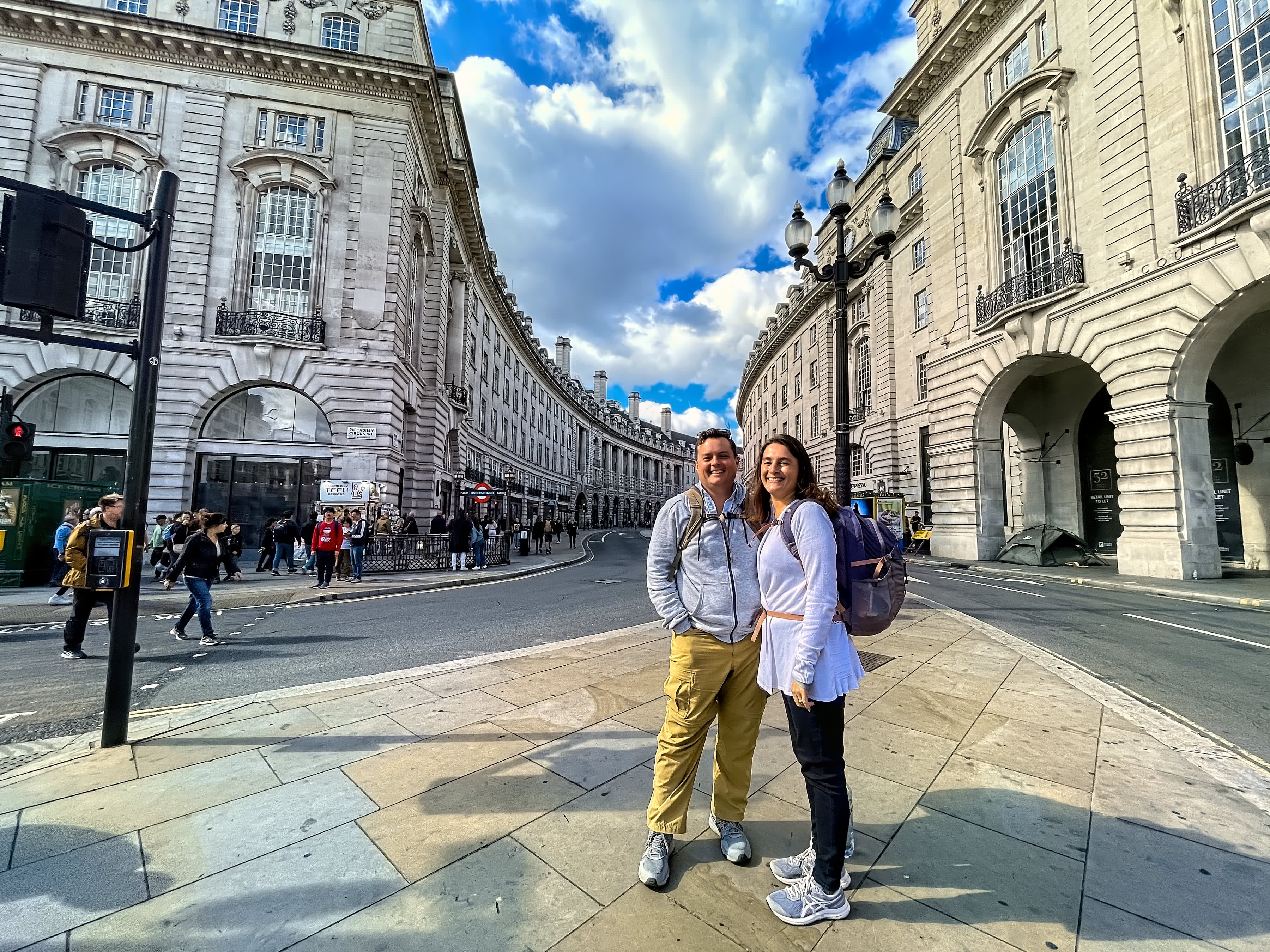 We wandered around for a bit to see what there was to see in the area. And then we found Chinatown. It was really big with tons of lanterns hanging up and many restaurants. We grabbed a pork bun to eat on our way through but I wanted brunch in Leicester Square so we moved on.
Piccadilly Circus and Leicester Square kind of overlapped but to me, Leicester Square seemed more like Times Square. (Originally I read that Piccadilly Circus was compared to NYC). Leicester Square had a theater district with tons of titles we've heard of. I never knew there were shows in London.
After a couple hours of searching, we found a brunch place. Once I saw that it was also a prosecco bar, I was sold. They'd definitely have a mimosa for me! Neil found a bloody mary that he described as vodka with a splash of tomato juice! We had some tasty meals and just sat and hung out. We didn't have much energy left after all our exploration on Friday and Saturday.
We looked on the map to see what would be nearby and possibly inside, since it wasn't very warm that day. The British Museum would be on our way to the train station and seemed like just what we were looking for. We both like museums but with a name like "British Museum" I was expecting a history lesson not an art museum. They were offering free admission and we figured any topic would be fun to learn about.
The museum was pretty amazing! We passed lots of African and Asian art displays. There were so many mummies, which I couldn't believe. Usually there's just one or two. The library room was beautiful with old books, globes and then more art. We even saw an Easter Island statue and the original Rosetta Stone. It worked out great as our final thing to do, so glad we found it on the map!
It didn't take much time to arrive at the train station from there thankfully. While we were waiting for the platform to be assigned, a large group of people stood around us. Then right at the moment the sign updated that our train was leaving on platform 11, everyone moved as one giant mass towards the gate. It was a pretty crazy site to see! I wish I could have gotten that for our 1SE video that day.
We'd be on this train for 2 hours before our layover. I was pooped so I took a nap. We only walked 6 miles on that final day but that was more than enough. We grabbed a quick sandwich and used the restroom during our layover and then before we knew it we were back in Manchester. Lucky for us we remembered that the stores would be closed all over England to honor the queen on Monday. There was a little shop in the train station where we grabbed some coffee creamer and we were on our way back home.
The last piece of our story was the funeral of the queen on Monday. Back in Manchester, we could sleep late and then find the tv broadcast while we ate breakfast. We were so happy to no longer be fighting off the crowds. It was pretty awesome to watch the scenes of London and say "Oooh, we were just there!" And the church where it was held was the white one we had seen at the crosswalk on Friday. It looked really pretty inside!
Although our trip tired us out, I think we saw everything we had hoped to. And now I can say I've been to London and Neil can say he walked on the Tower Bridge. All in all, a great long weekend trip!
Crowds for the queen
Eating our way around London
Buildings and Cars
Selfies and Landmarks