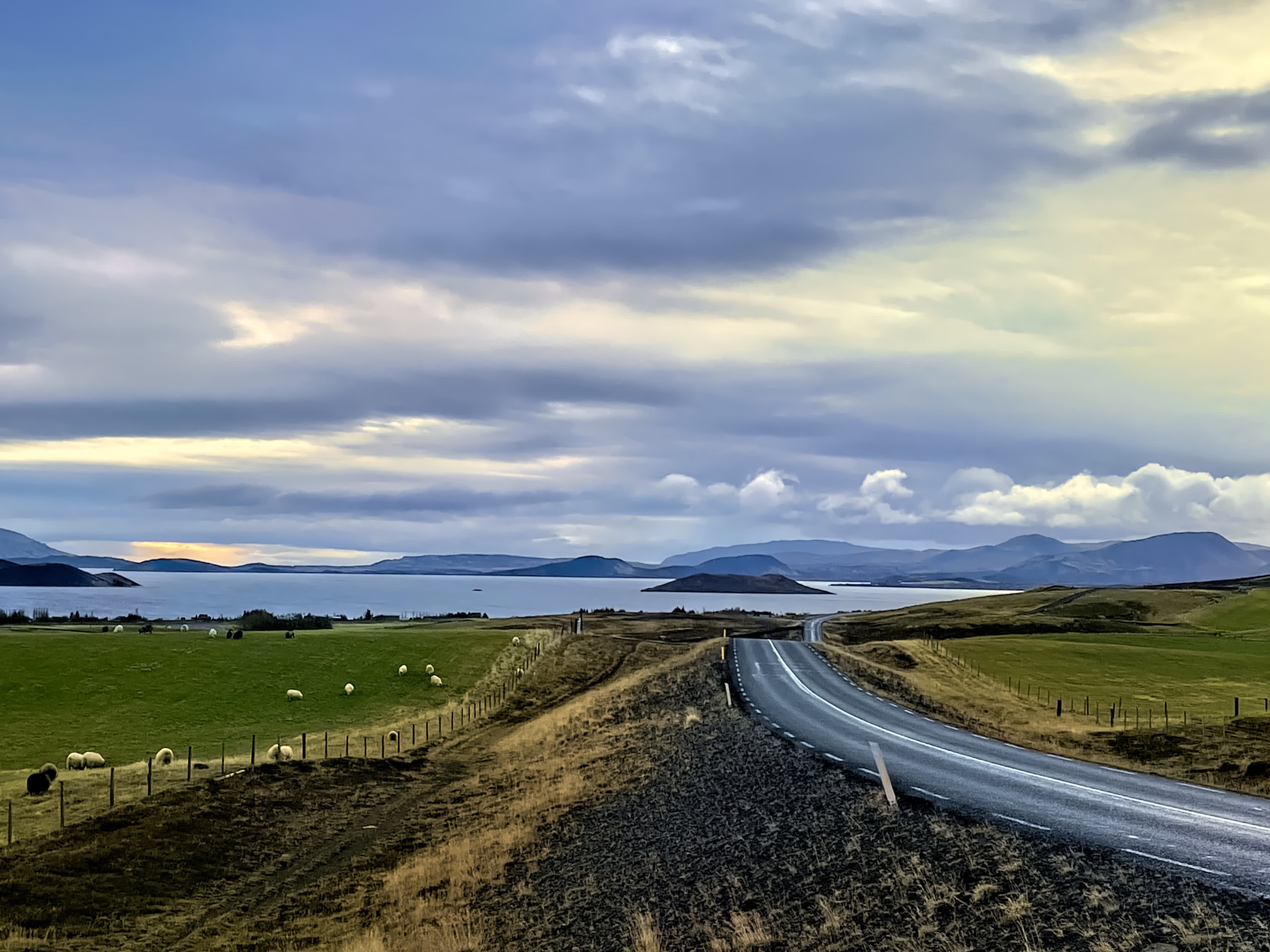 We'd been hoping to take this trip out to Europe for about 5 years. Back when we started searching, we heard about an airline that had an "Iceland stopover". Wow, what a cool idea to stop in Iceland on your way across the pond! It would be like a bonus country.
Now that we finally did book the European leg, we had to decide if we could still fit in the Iceland stopover. We'd be flying from England to Massachusetts and luckily there were flight options to accommodate the Iceland layover, so why not, right?
We planned it out to arrive on Tuesday night and leave on Friday morning, giving us two full days there. This would be plenty of time to take the Golden Circle car ride, go to the Blue Lagoon and see a little bit of Reykjavik, where we'd stay. When we take these quick trips, we usually find our hotels on Booking.com.  They offer tons of affordable options with plenty of reviews to choose the right place.
The flight took around 3 hours during the evening so it was pretty easy. Once we touched down, we took the Fly Bus (an airport shuttle) from Keflavik out to our hotel in Reykjavik. This made us arrive just about the time to go to bed, but all pretty straightforward!
Wednesday began with breakfast at our hotel, Fosshotel Rauðará, and there were quite a few options. Didn't think too hard about it, we were just anxious to get some food in us and head out to pick up our rental car.
Although we know the "List of Things To Do When You Arrive In A New Country", apparently we'd forgotten to act on them when we flew in last night. That meant scouring a new town with no cell data to find an atm or a bus that accepted credit cards. We needed a way to get to our rental car that we chose to pick up today once we were well rested and it was light out.
There was a convenience store that sold bus tickets but only in packs of 10 and an ATM with a technical error so we weren't off to a good start. Luckily an Icelandic taxi driver took pity on us and accepted our credit card for the fare. We did get a bit nervous when we didn't really know the conversion of Icelandic Kruner to USD but we were in "wing it" mode so we didn't have many options.
We arrived at Blue Car Rental around 1030am, and the pick up went pretty easily. One of the upgrades we'd paid for was the WiFi hot spot. Figured it would be a good idea as we drove around a scenic route in a new country. We were on our way but a few minutes in our check engine light came on. The car was running fine so we just sent a quick message to the company and drove on. I'd guess it was about 30 minutes into the trip that we were feeling calm and ready to enjoy the route.
It is a little out of the ordinary for us to rent a car during our travels but the bus tour options of the Golden Circle seemed like they'd be too rushed for us. We decided to break the trip into two days and then we'd be able to go at our own pace.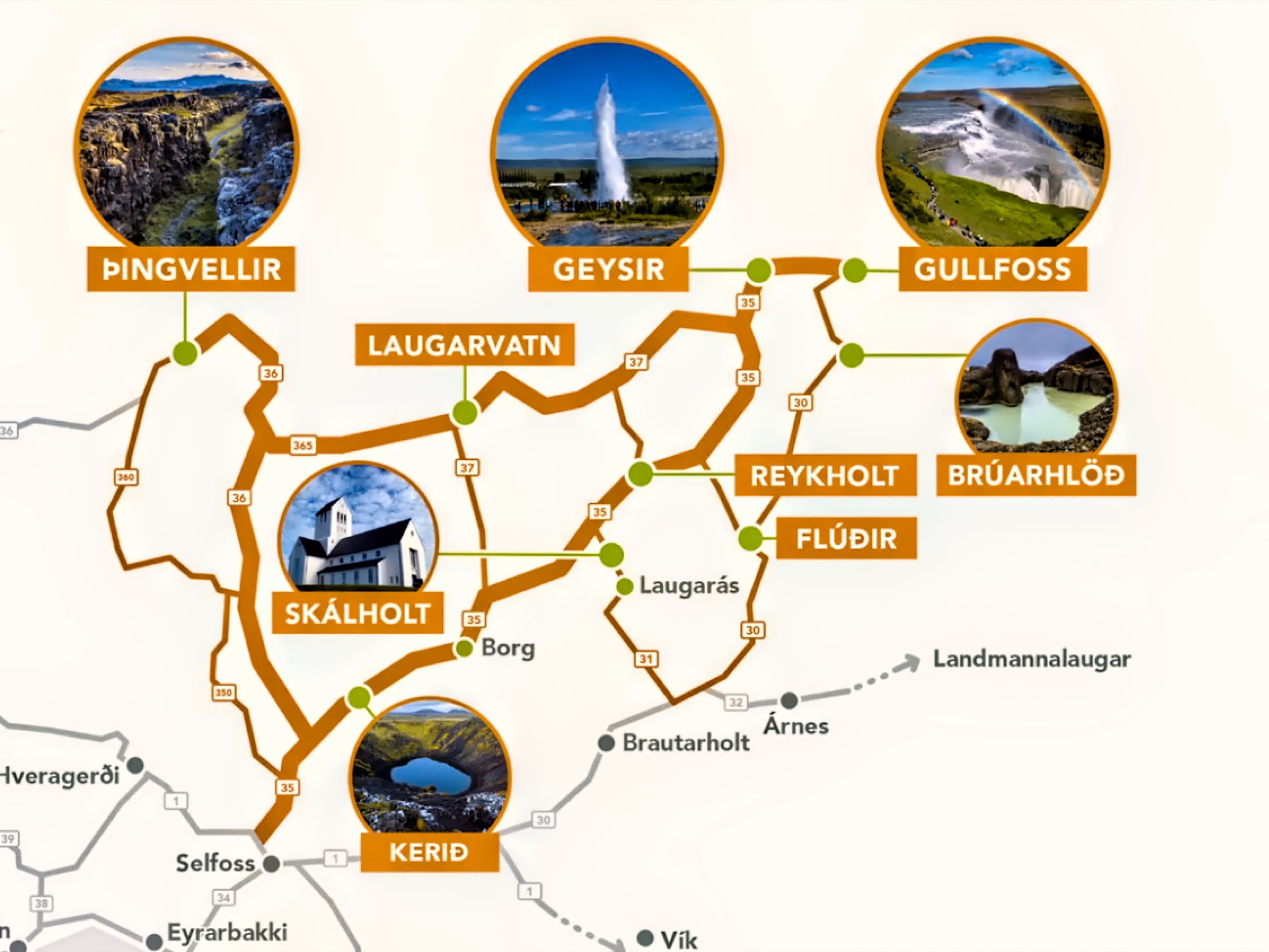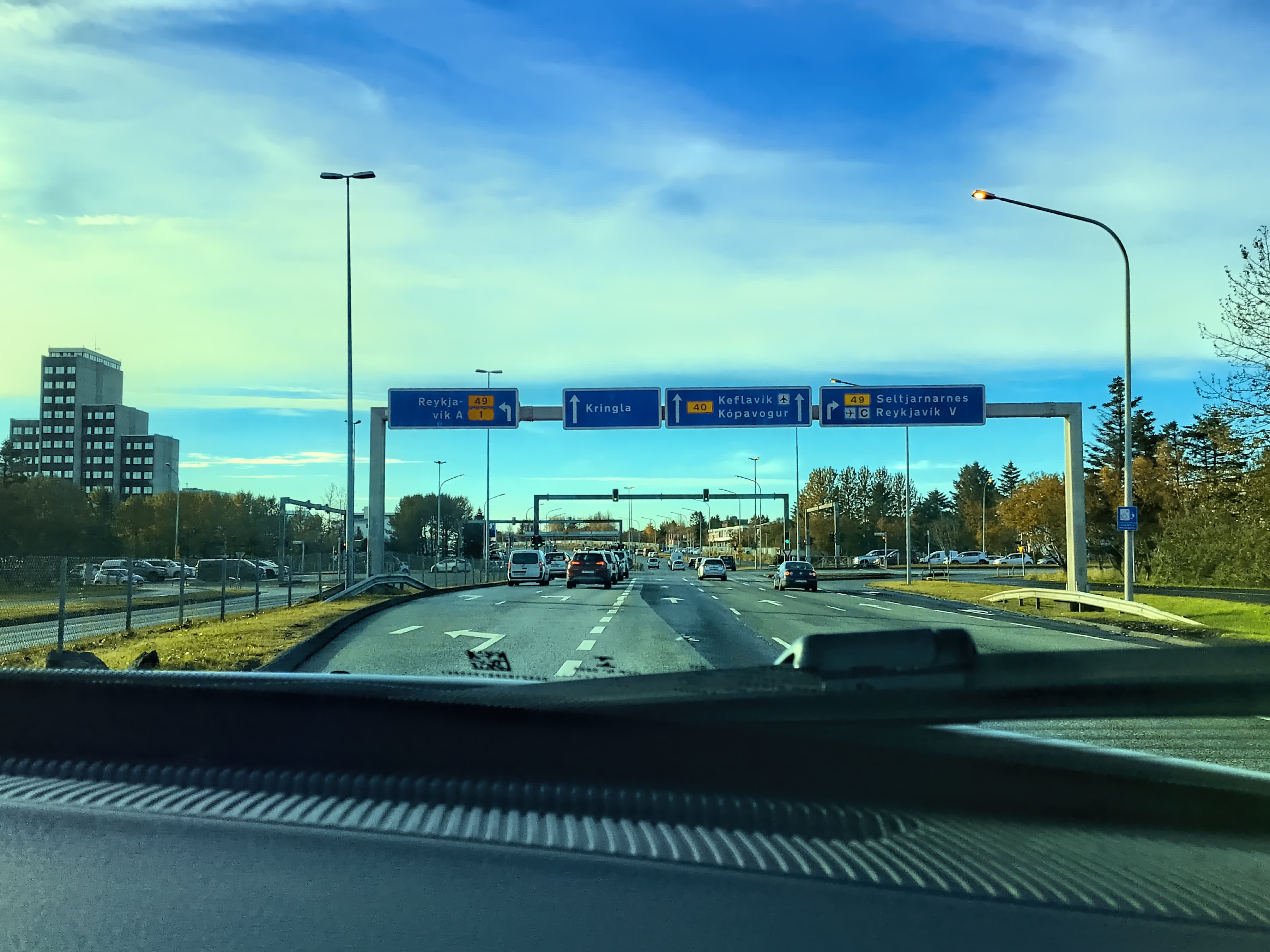 The first thing we found was a golf course with pretty views and a river so we decided to stop for pictures! One of the rental car notes was to be sure to hold the door with two hands when opening it so it doesn't break off! Apparently those wind gusts can be pretty severe. This would be a new challenge for entering and leaving the car. Hesitantly I opened the door to step out. We were not really prepared for the Iceland weather that greeted us. We were freezing but still went over to the river with our selfie stick. It started raining and it was too cold, shivering, I ran back to car. Yes it was pretty but I think we'll get more bundled up at our next stop.
During our research, we'd seen the National Park that was on our route but opted to skip it and venture on for some of the farther stops. This way we could stay in the warm car a bit longer. We did stop at a shop for a bathroom break and to pick up some local snacks. We grabbed dried fish, collagen soda, potato salad and butter just in case there were no lunch options along the way. Why butter you ask? Well the cashier said that would make the dried fish a little tastier.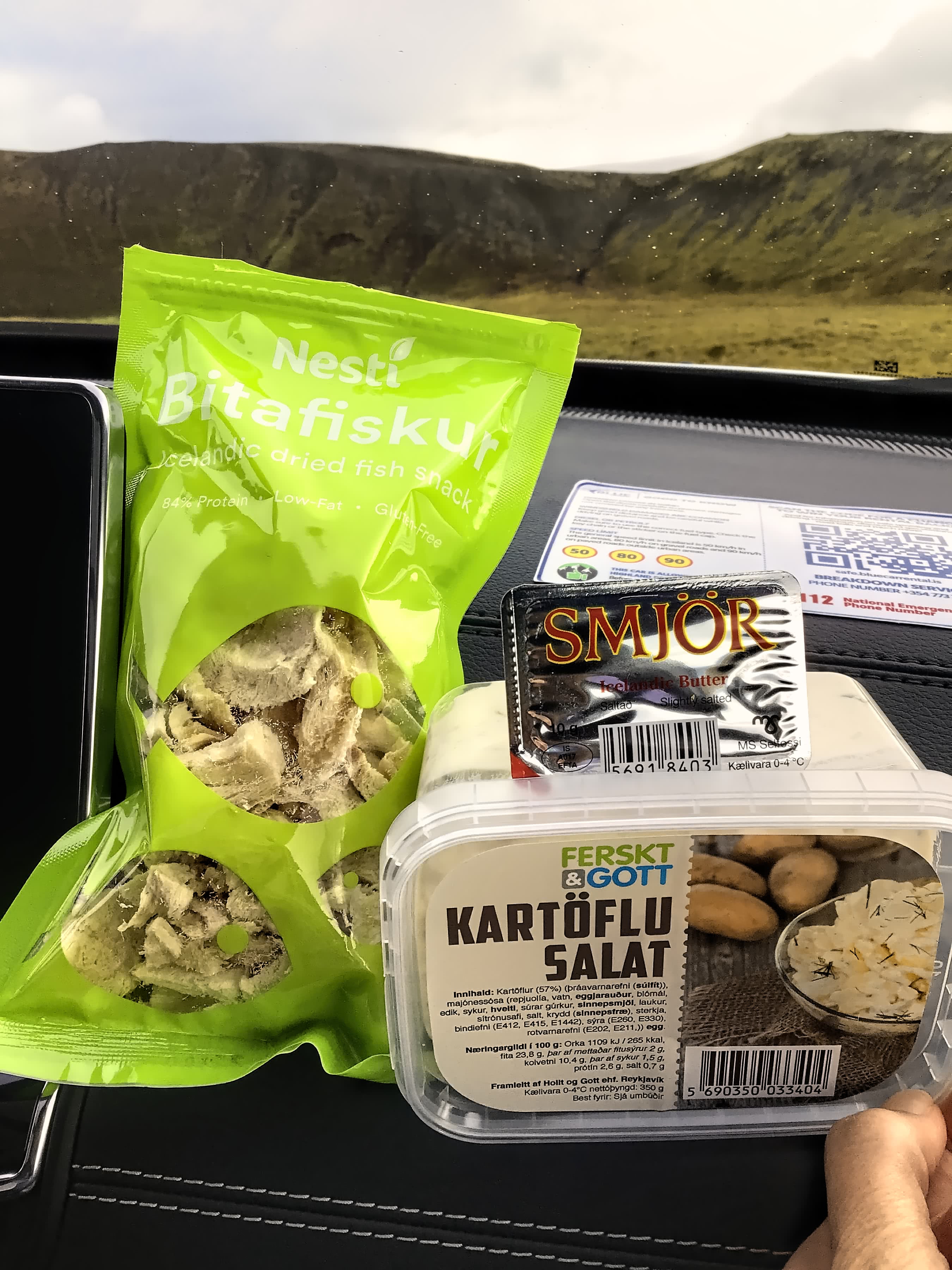 We were heading towards the Geyser as our first destination. This route through the mountains and vast open land reminded us so much of Montana. There were hardly any other cars on the road that day! We also thought it would be a good place to film a movie that takes place in outer space. It looked like Mars or something!
Although the Geyser was pretty far off, we did stop multiple times along the way for pictures and just to see what was around. We were excited to see it all. There were sheep and horses, both fuzzy like puff balls. We ended up driving down some side road just to see what was there and decided it would be a good place to stop to enjoy our Icelandic foods. Then we stopped at a rest stop and found a funny norse god Iceland magnet.
We were about to pass some cool geographic formations when we realized we were at the continental divide (between Europe and North America) so we got out to hike around a bit. It was so crazy to see the lava rocks and globs of dried lava on the path! We even picked up a lava rock as a souvenir.
Around 3pm, we arrived at the Geyser. The weather was still cold but not nearly as bad as the stop by the golf course. There was steam billowing out of the ground and a sign that said don't go in this stream that's flowing by, the water is 80-100 degrees C. We realized we weren't walking towards the crowd of people so we turned around and tried the next path.
We saw the geyser shoot up in the distance. We continued to walk towards it and there were three more eruptions as we got closer. We'd seen an article saying that the geyser usually erupts every 8 minutes so we hung out to snap a photo of it. It felt like we were standing there for more like 15 minutes and then a puny spout came out and we missed a photo of it. Luckily we got another set of powerful eruptions just after that. Neil caught the second one on video and I got a photo of him with it.
We met a nice lady from Montana while we were watching the geyser and she said it smelled like Yellowstone. We chatted for a few minutes and then kept walking to see what else there was. We were able to spend about 45 minutes at the park before Neil's work phone call. The WiFi worked great for his video call. I'm going to guess that's the first time he's had a video work call in a car!
Our next stop would be Gullfoss, the giant waterfall and it was only like 15 minutes away. There were tons of trees that we think were Aspen from their skinny trunks and yellow leaves. We also saw a sign for Selfoss but decided to skip it.
It was around 5pm when we arrived. The falls were HUGE! It really was hard to even imagine the size. When we looked up ahead we could see that there were multiple viewing areas and one of them looked like it was right in the water. There was a point where I stopped to stare down the cavern at the river. It was so peaceful. Although I'm not interested in white river rafting, I'd guess being in some other type of boat down there would be pretty cool.
There was a gift shop and a restaurant so we stopped for some dinner. We were able to share one piece of salmon as it was giant, perhaps to mimic the largeness of the falls? The restaurant was like a cafeteria set up and we were the only people there. We just enjoyed being inside in the warmth and quiet and took a little break. I was even able to post a picture on Instagram for "Waterfall Wednesday". What a cool coincidence to be at a waterfall on a Wednesday! The sun was setting as we left so we started looking around for the Northern Lights. Is that it? What about that? No, I think those are all just clouds. Guess we didn't find it.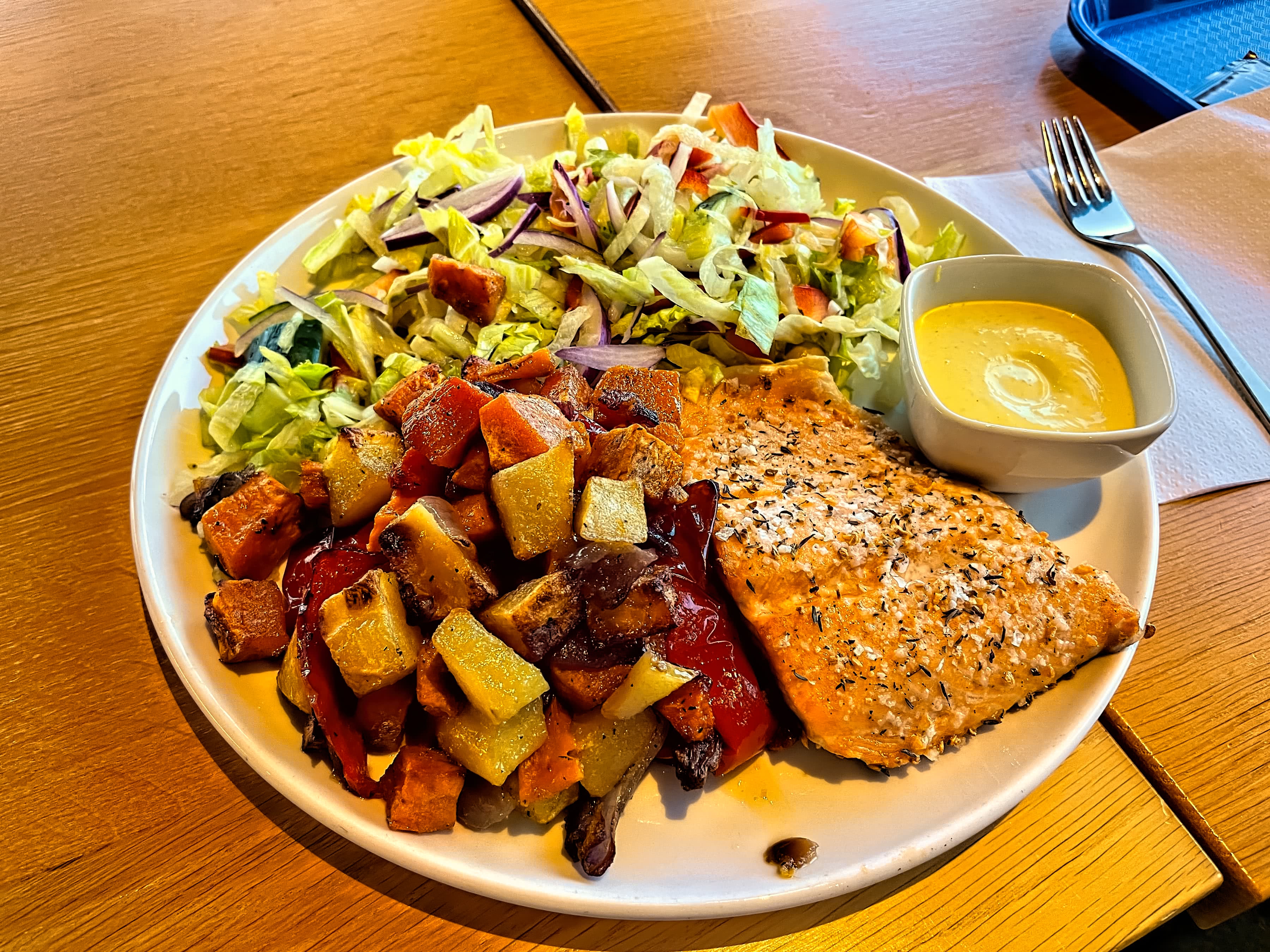 The final thing we did that day was get gas so we didn't have to do it the next morning. We added Bensín and then thought, "Oh no, is that was type of gas that cars use? Did we put the wrong one in?" So we ask you, do you know any more than the number grade that you use? We had to go to a second gas station to see if they sold Bensín too. Honestly, we just knew not to add Diesel. We told you we never rent cars! After a few minutes of translating Icelandic words on the pump and on the sign, we were assured that yes, Bensín was the regular gas. Phew! That was enough excitement for one day.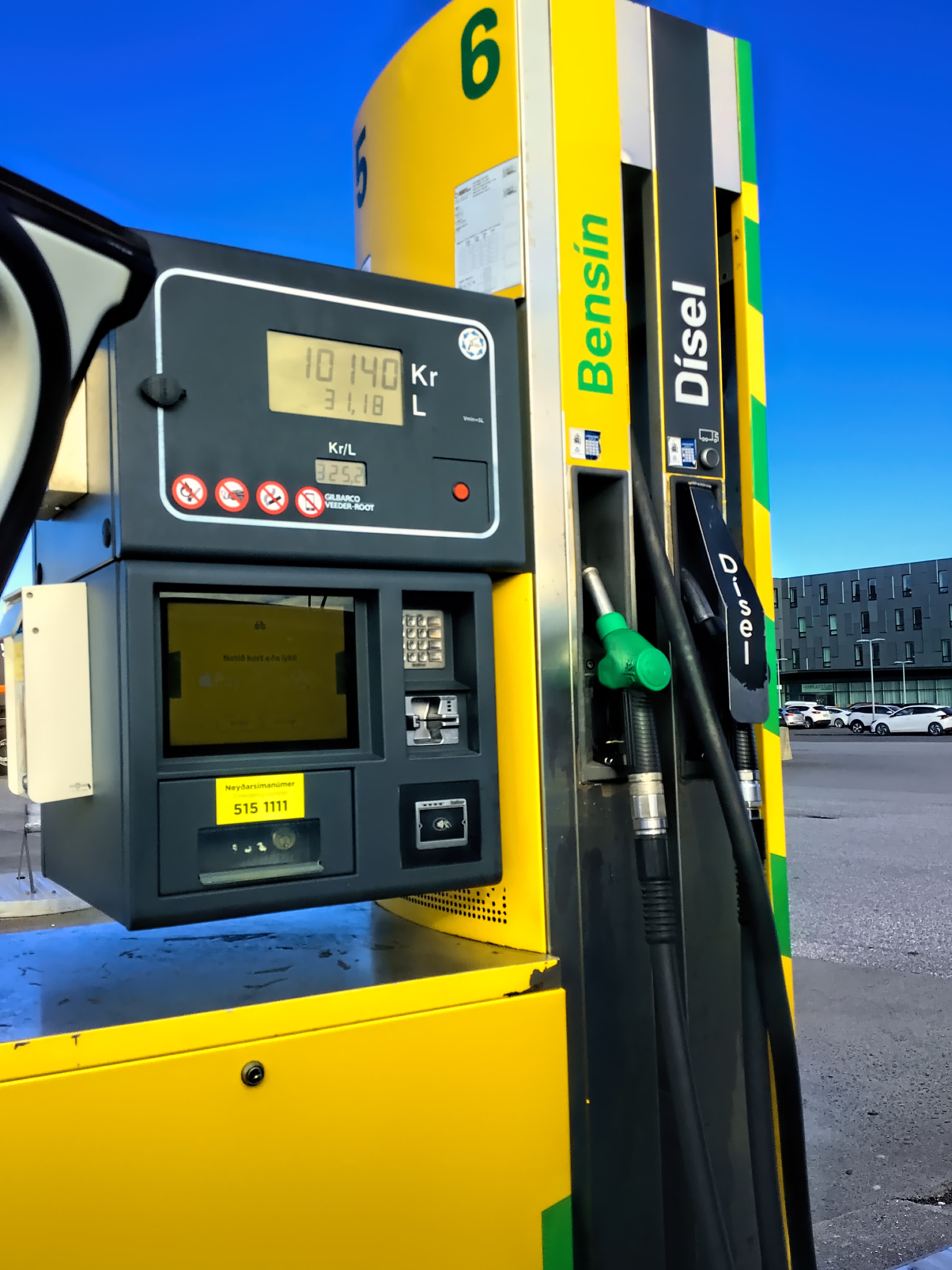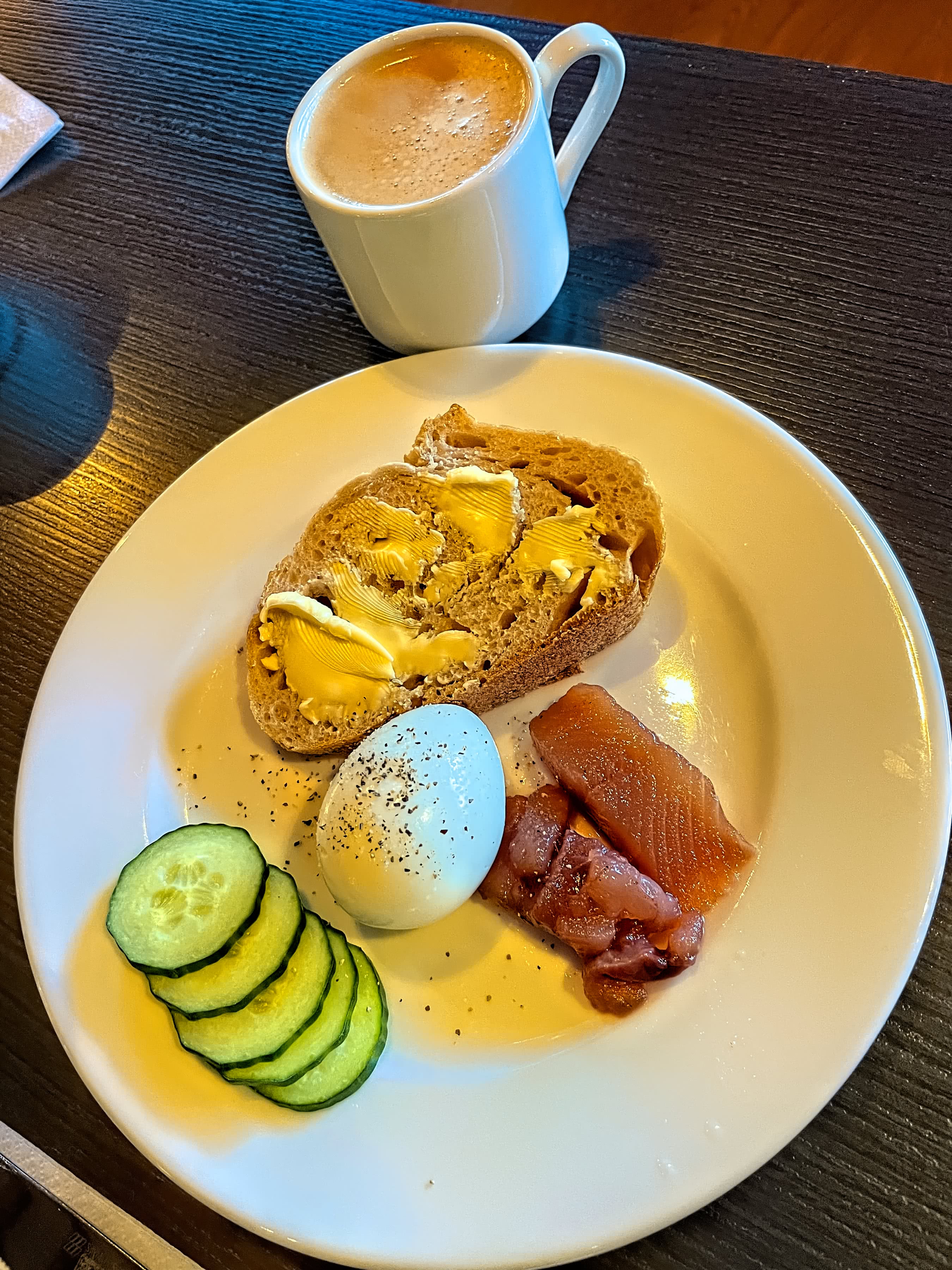 When we went downstairs for breakfast on Thursday morning, I was feeling a little adventurous so looked to see what there was besides bacon and scrambled eggs. Any guesses? Well, I found herring which was oddly sweet like a sweet relish and then I picked up something like Christmas ham which made me think of cloves. Not bad, more just confusing. The small piece that I had was enough for me. Luckily there were hard boiled eggs and cucumbers to cleanse my palate after that.
Our first stop that morning would be the coast since we'd seen a glimpse of it yesterday when we were in the taxi. It was actually right down the road from our place. As we were trying to find a parking space, Neil had a spider come down it's web and land on him (while he was driving). I know seriously, maybe there's a reason we don't rent cars! Once the moment passed, we got out and saw some pretty cool sites. There was a viking boat statue, a building that looked like it was made of ice cubes and a yellow light house. Definitely worth the stop over there.
We'd be following the bottom route of the Golden Circle today so we started out the same route as the day before. As we were driving we could see a faint rainbow, but we had to really squint to see it. It looked like a vertical line but got more pronounced as we drove. Then we realized it was a sun dog which is a rainbow that goes all the way around the sun. It was really pretty so we pulled off to take a few photos.
When we arrived at the crater, Kerid, there were tons of cars in the parking lot so we almost didn't even find a spot. There wasn't any type of shop or bathroom but there was a person in a little hut collecting an entrance fee. This was pretty different from the stops we made yesterday but we grabbed our copy of the pamphlet and made our way into the park.
We started by going down in to the crater to see the lake close up and walk the perimeter. We've actually been to a crater lake before with Carla and Nick in Colorado. The weather was a little warmer down inside the crater because there's not as much wind down there so that was nice. We watched the breeze make ripples on the water and found a total of 1 fish. I picked up another lava rock which was so lightweight! Then we made our way to the upper rim and went about 1/3 of the way around. It was colder up there so we figured that was enough for us.
There was a nearby restaurant that I was going to just duck in to use the bathroom but we decided to stay for some lunch too. We had a seafood soup and a fish sandwich. Both were really tasty!
Our route would be changing as we left the Golden Circle to head to the coast. The water was amazing and we were able to stop at a bay and then the ocean. We took photos at both, of course! The ocean side was cold but we had to see it. And the waves were massive! We picked up a few rocks and shells to add to our collection. The rocks were so polished and shiny! Neil couldn't get over that it was like Montana during yesterdays scenery and then today we were at the ocean. He quickly started dreaming of real estate goals!
We drove past a marsh landscape with only a few houses and then saw the rocks that were covered with moss and sulfur. It looked like another world and the photos really weren't doing it justice! We even saw signs for a volcano.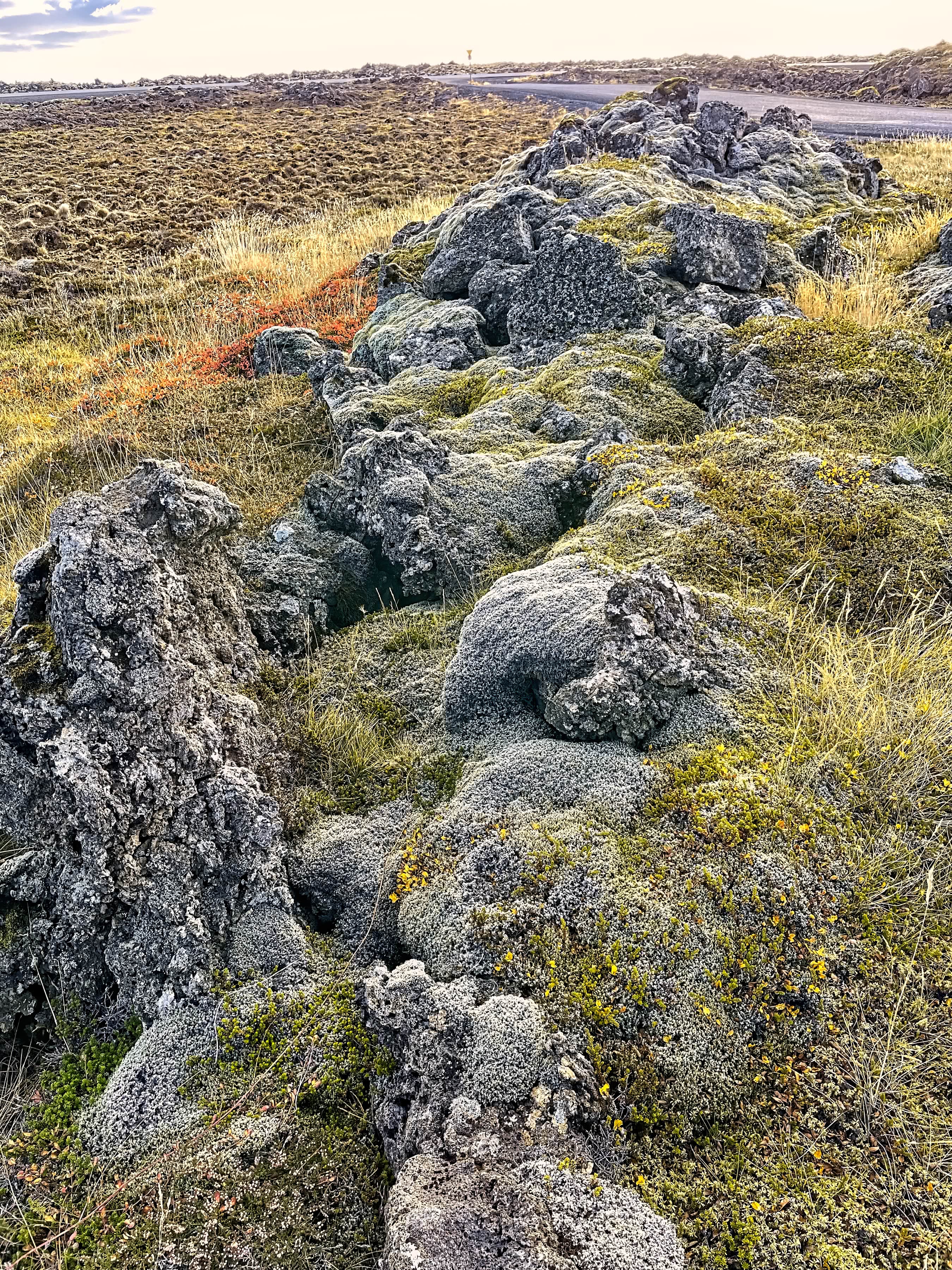 We haven't mentioned it yet but another reason we wanted to go to Iceland was because of it's link to The Secret Life of Walter Mitty movie. Neil and I love the message of the movie and the simplicity and beauty of the landscape! There's a scene where Sean Penn is riding on the wing of a plane as he goes towards a volcano. We think that was the volcano that we were going by. Unfortunately, we had a time deadline that day because we were going to the Blue Lagoon, so we couldn't stop.
Our appointment was at 4 and we arrived around 430 but we were happy to get to take our coastline detour. Since we were a bit late, we asked if we could push back our dinner reservation and it was no problem. We made our way to the locker rooms to change. We had gotten the slightly upgraded entrance fee so that we would have bathrobes. It was so worth it!
It was a little bit of a complicated process to prep for entry to the lagoon. You had to use the bathroom in one section of the locker room, put on the robe, go shower and leave the conditioner in your hair. It was also suggested that you tie your hair back so it wouldn't be in the lagoon water. Next change into my bathing suit and then go find Neil since he was in a separate locker room.
Although we had the robe to keep us warm, the frigid air made my toes cold! We were walking around barefoot outside but luckily it was a short walk to get into the nice warm water. Some pockets of water were warmer than the others but I'm going to say it was due to the natural heating of the water, not what you're thinking.
The first thing we did was go over to the facial mask station. Our package included 3 different applications, a black one that was made from lava, a white one that was made of silica and an anti-aging one that was green. We walked around the large pool while the masks did their job on our skin. Then I had to get a selfie of us with the final mask. This meant getting out of the water, finding my robe, heading back into the locker room and unlocking my locker with the fancy bracelet to grab my phone. Then coming back out, taking off the robe, finding Neil and snapping the shot, just to go back in and put the phone away. Sure it's a lot of work but I wanted to have at least a couple shots from while we were there. Thankfully neither of us had the goal of glamour shots in the pool like we saw going on all around us!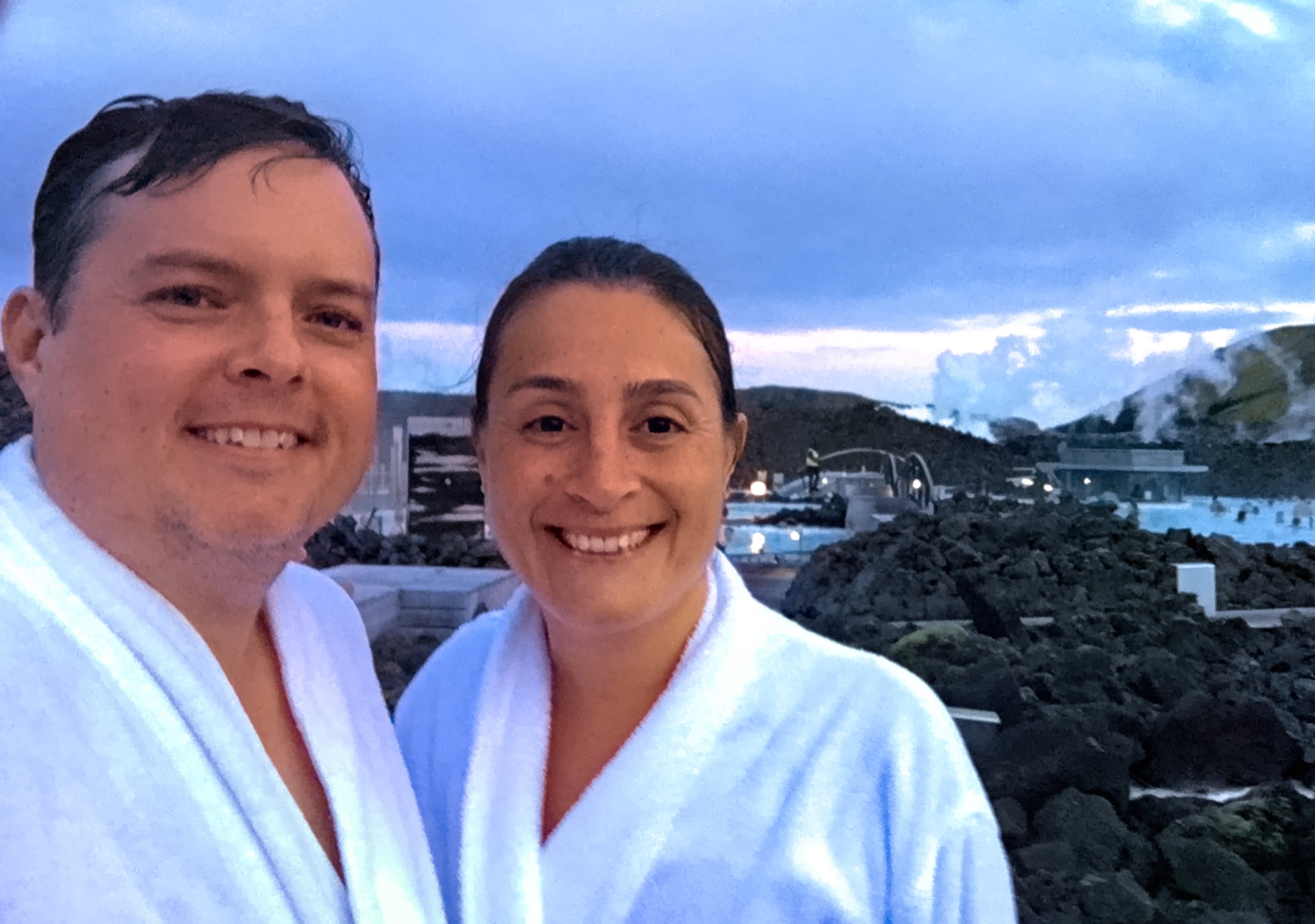 In order to get back into relaxation mode, we headed over to the pool bar (fully accessible from inside the water of course!) for our free drinks. We both got a fruit smoothie which was so nice to sip and chill with. Once we were done we went over to the steam room. Neil activated his internal clock and had us get our steam and sweat on for ten minutes. It was a lot of steam but it felt really nice. We wanted to have enough time to get ready before our dinner reservation so we were keeping an eye on the time just a bit. There was a little time left to swim around the pool and enjoy the calming waters. We took one more selfie photo in our robes and then we did the cleansing process in reverse to get ready for dinner.
We were happy we had made the reservation so we didn't have to hurry up to go find food after all our relaxation. Our premium admission also included a glass of Prosecco, that was nice. The bread and sea salted butter were really good too. Salt is a big thing in Iceland, you can actually buy it as a souvenir in the gift shops. We ordered a fish and a lamb entree and split both. They were prepared so well. The lamb was so tender and there was a bit of a crispness on the fish. The fennel salad was strong but good and the mashed potatoes were really yummy. We though it was funny that the fish came with an enormous vat of hollandaise sauce but it was good. What a nice way to finish out our day!
As we pulled out of the parking lot, we could see the Northern Lights! We still weren't 100% sure but as we drove it was more green. What a sight to see! The moon was full and we were able to take a photo of it as well. We pulled off the highway just before arriving back in Reykjavik for a few more pictures.
When we got back to the hotel, we both did a pinch of work before it was time to get ready for bed. We started packing a little bit too since we'd be leaving the next morning.
Friday morning we headed down to breakfast and then got ready and finished packing. Since we hadn't gone to Hallgrimskirkja, the Lutheran church yet we figured we'd take a little stroll over there with our last hour before we had to go. We saw so many colorful corrugated steel houses and also the area that seemed more touristy. There were shops and restaurants so I was able to pick up a few token postcards. It was a nice little peaceful stroll around and a great way to wrap up our time in Reykjavik!
We opted for the regular route to drive over to the airport but it was surprisingly scenic. We got to see more of those moss covered rocks and I'm sure I still tried to snap photos of them.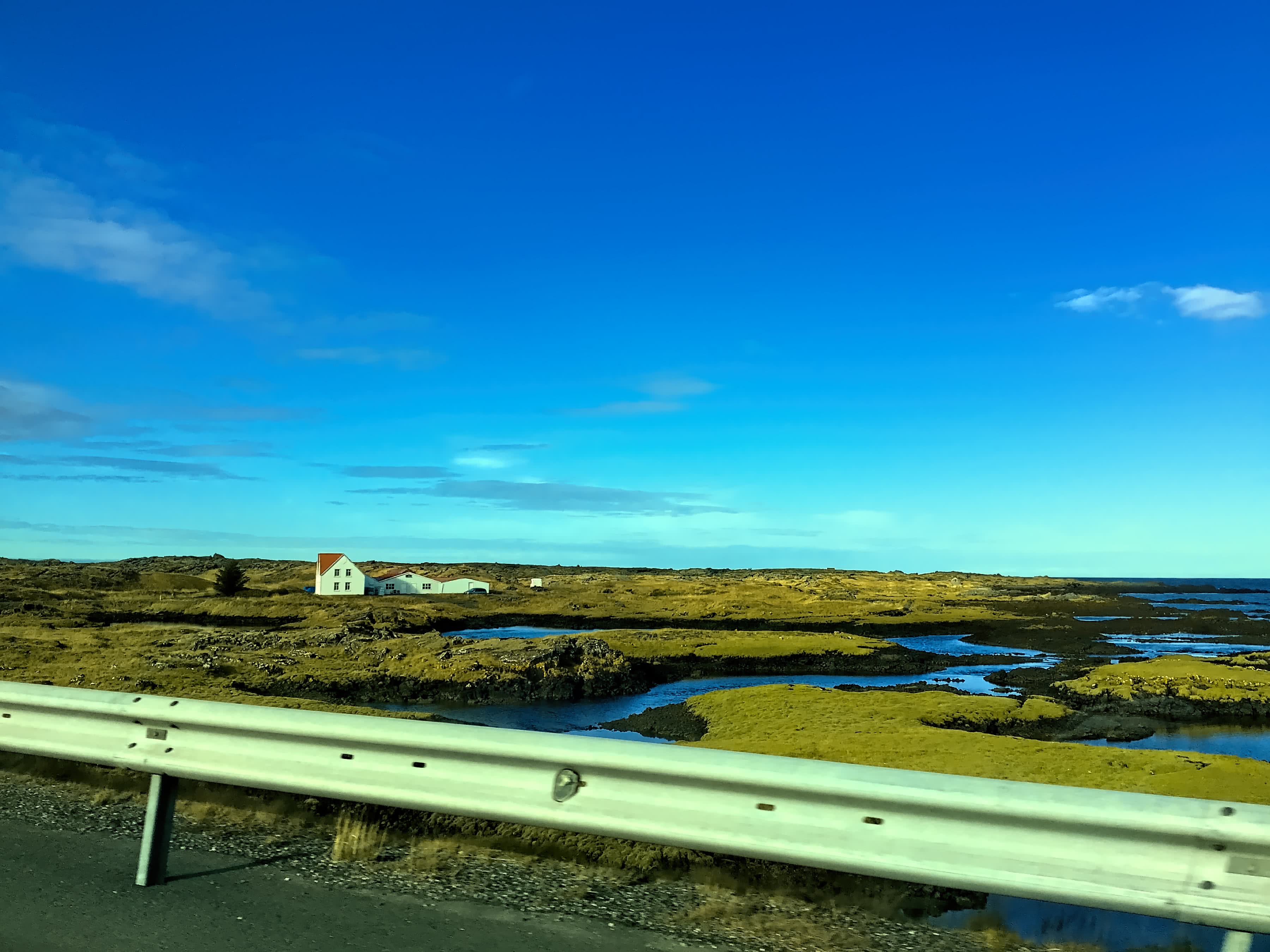 We'd be flying Play Airlines that day. There was so much room on the plane, I couldn't get over it. We think it must have been a plane that was used to fly to Mexico or something because all the maps had Spanish words on them. If we had the opportunity to fly with them again, we definitely would. The flight attendants were really friendly also!
I was sitting in the center seat so I didn't have any photo opportunities but I could see out the window a little bit. When we flew over Greenland we could see snow. So funny that there's snow in Greenland and not in Iceland! I chuckled to myself when the navigation map said we were flying over Nuuk (another tie to our Walter Mitty movie). It made both of us smile.