Coffee Tour in Costa Rica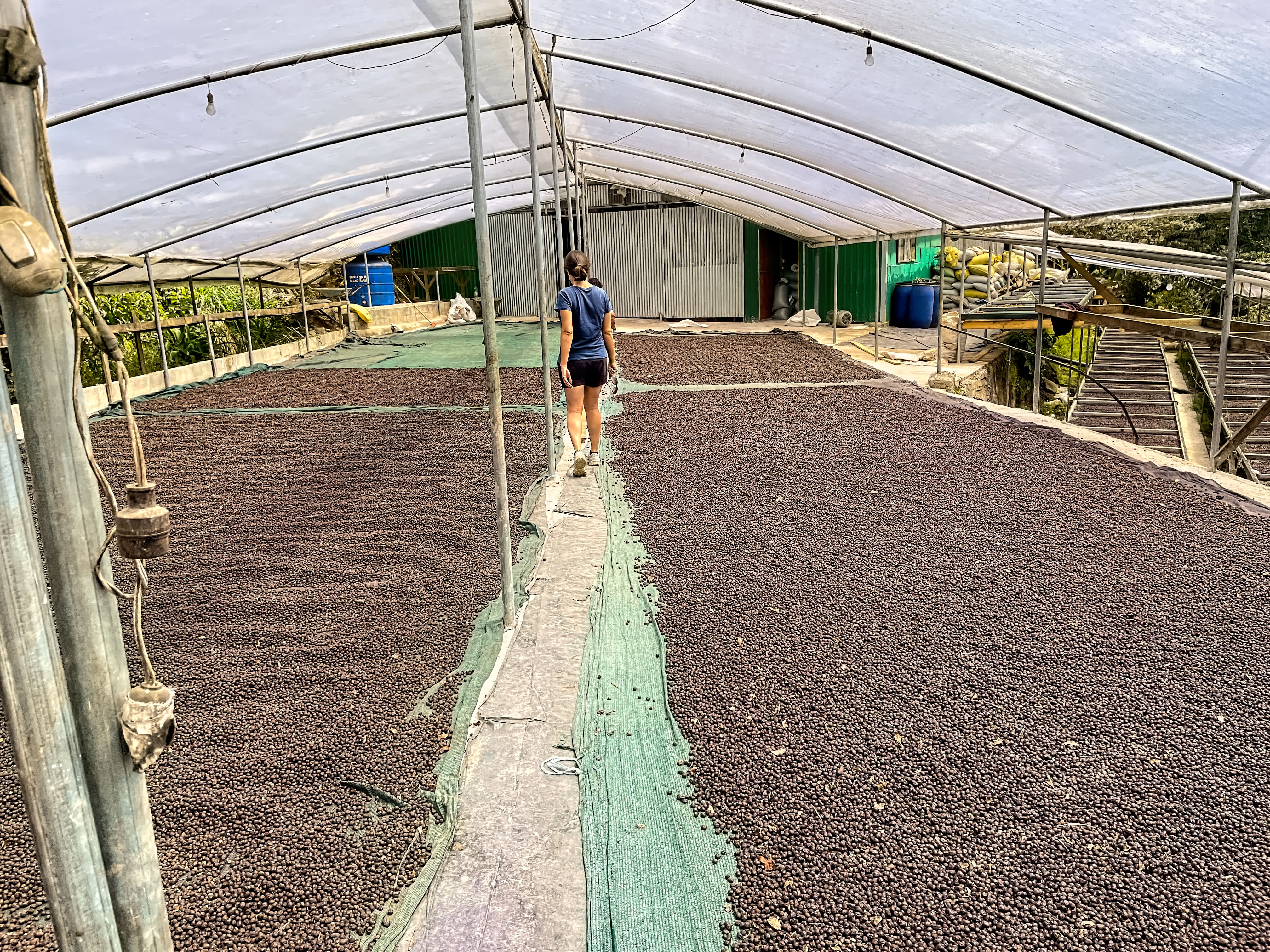 Over the weekend, we took a trip to the Bela Pitina Waterfall. Just as we were pulling into the parking lot, we saw coffee beans drying on some nearby tables. I snapped a quick photo and we made our way through the garden towards the water fall.
We were there with friends who also love hunting for waterfalls in the tropical climate of Costa Rica! We swapped stories and caught up on what's new as it had been a while since we saw them. The water was crisp! After a few minutes of wading in the shallow pool, I found my way to one of the river rocks and decided to warm up in the sun. We ended up spending around two hours down there with the whole place to ourselves. What a peaceful morning!
Once we came back up to the cars to gather our dry clothes, the hostess greeted us and asked if we'd like to see their coffee operation too. Neil and I love to learn so we figured we'd go check out all those drying tables. Our friends had to head out so we made our way over there, just the two of us. 
It was hard to gauge the quantity of coffee that was actually being processed until we walked through the fence. There were beans as far as the eye could see. Maybe like 100 tables of beans as well as the ones that were loose on the tarps just as we came in. One of the first things that caught our eye was the rake for moving around the beans!
We followed the walking path over to the factory, a warehouse filled with equipment and even more beans! Jony Alvarado greeted us to show us around. We learned that the entire family was involved with the business and it was all hands on deck this week because they were at the peak of the season. We were lucky to be able to squeeze some time in with them!
Neil and I love agriculture as well as production facilities so anytime we get the chance to see another thing being processed, we jump at the chance. One of the first machines we saw was a giant spinning platform, we couldn't guess what that was for so we asked. It's a way to mechanically dry the beans in case the outdoor weather wasn't enough. There was a giant blower to heat the beans while they spun around. Pretty wild! 
We also saw the shaker where they sort the beans into the different grades. I've seen something similar to this when I worked with tomotoes for the University of Florida. Seems I've been interested in this type of thing for quite some time!
As we were chatting about the processes involved, we brought up how much we like wine and that I previously worked in winemaking. That made him perk up because he wanted to know some of the similarities. He started asking temperatures for fermentation and amount of time in barrels. I told him the winemaker I worked with kept a lot of that info to himself. We all chuckled and then continued walking around the facility.
You wouldn't believe how many bags of beans that were piled up! Since wine had come up, he wanted to showcase all of the different aromas that can come from the varieties of beans.
If you've never learned about coffee beans before, there are multiple layers on the actual beans. They need to be dried in the sun for the shell to crack off. There's a sticky layer next and then the actual bean that gets roasted inside there. In this facility, they get it to the point of the smooth raw bean and then sell bags to a coffee roasters all over the world, very impressive! Costa Rican beans are definitely one of the best!
As we were smelling the different bags, we could pick up all kinds of aromas, including baked bread, earth, cinnamon and chocolate. Next we walked over to a group of barrels that were linked together by hoses. This seemed like something out of the wine industry for sure. There was even a keg with a temperature gauge on it! Not sure that we understood everything 100% but the beans were being fermented in there in order to enhance the flavor. Only some beans went through this process for specific customer and for research and development of future batches. 
He showed us something that looked like a thermos with a bunch of numbers on it. This tool was used to measure the humidity of the beans. The lady that started our tour was telling us how important that number was and that some of the family was currently moving the beans to the next process because of the humidity in the air that day. She said you had to do it when it was just right or the beans get damaged.
There was still more to the tour. We made our way outside to see all those drying tables filled with beans. Each table we passed, we rubbed the beans a little to see what new aromas we might identify. Jony was getting impressed as I started yelling out tasting notes almost instantly. Guess my nose is still fine tuned for wine even if it feels like I haven't been doing much with it lately. 
We were all having a great time and each table we passed seemed to be a new aroma. How interesting! Who knew a trip to a waterfall would also include all this coffee education. As we walked out we saw some of the teenagers carrying the bags on their shoulders, wow, that is some hard work in the summer sun! Thanks to everyone that showed us around and we wish you lots of luck wrapping up this years crop.