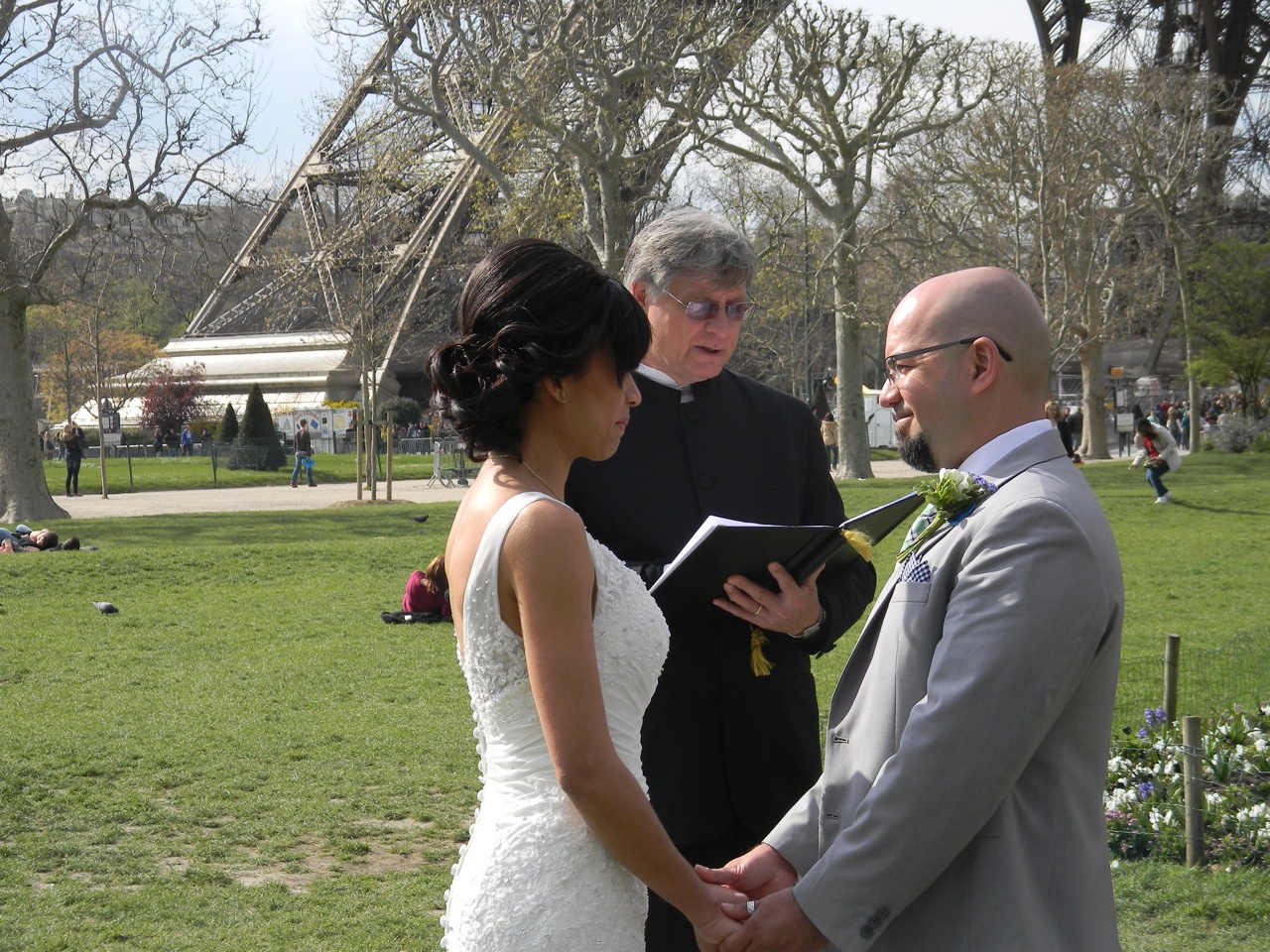 Previously posted as part of the Travel Pod Series "Furry Beard Hops the Pond" on Monday, March 24, 2014.
Our dear friends Dharma and Julio were married today! And to start off the day, we walked up the Eiffel Tower stairs as far as we could possibly go, during which Maria braved her strong fear of heights.

Before we hit the road, we were in need of a non-bread breakfast. We found a delicious omelette of ham, cheese, and mushrooms, and a super sexy cappuccino! Fueled up and ready, we hit the Eiffel Tower.
While we were on level 1 and level 2 of the tower, there were terrific views of the city. We could take in the sites and pick out places to see more up close and personal. Neil wanted to hang over the side as usual but Maria was able to take a couple pictures and then put her back to the wall. Luckily there was an elevator to descend the tower, Maria couldn't handle any more time on those stairs.

We rushed back to get ready for the grand event and return to the Tower.
 The scene was set, sunny, beautiful, and directly in front of the Eiffel Tower, who could ask for a more romantic moment. Although Dharma and Julio only invited 8 guests, the park was filled with people celebrating their day. With all eyes on them, they were married. All of the us played some role in the ceremony and then hugged them congratulations before they went off on their Paris photo shoot.

While they were out being models and becoming the super famous "wedding couple" at all the monuments, Neil and I made some new friends, Aya and Kameron, the other wedding guests. We grabbed a quick bite to eat and explored one of the fancier Paris neighborhoods. Our timing was perfect because we arrived at Dharma and Julio's apartment right before them.
We enjoyed a Brindis, champagne toast, and some authentic French cheeses. Our dinner reservations were for 7pm, so we set out for our extravagant meal. The restaurant had great reviews online and the experience was exactly what we had hoped for. The wait staff were terrific and everything from the Foie Gras, to the Pouilly Fume wine, scallop truffle snacke, and soufflé dessert was amazing.

As we walked back to the place, the Eiffel Tower put on a spectacular light show for us. Back at the apartment, we cleared the chairs out of the way for a little Latin dance party.

We were having so much fun talking and hanging out that we had to find a cab to take us back to our apartment, since the metro had already stopped for the night. What a great day!
TravelPod Comments:
Congrats you two!!!! May you have many happy years together!
From Mary Daniel and Sofia, on Mar 31, 2014 at 02:46PM