River Cruise Day in Paris, France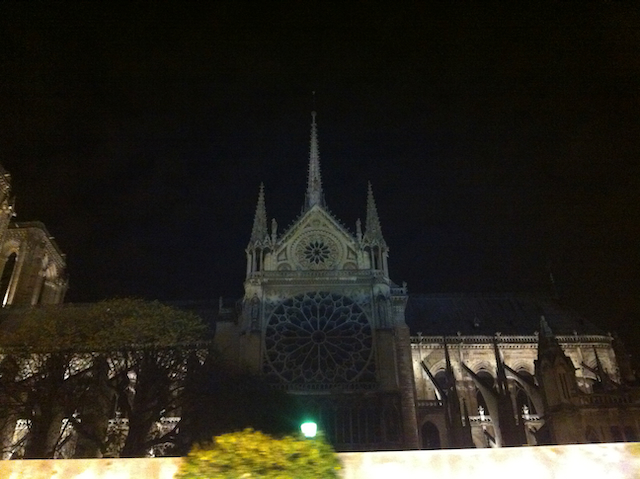 Previously posted as part of the Travel Pod Series "Furry Beard Hops the Pond" on March 25, 2014
Finally got to get some sleep last night! After munching on some delicious breakfast snacks we got from Dharma & Julio, Maria put some bandages on and we headed out to see the city. Oh, why the bandages you ask? Because the shoes she wore to the wedding yesterday practically broke her pinkie toes and actually scraped a good amount of skin off. The price of high fashion!!

We started our day on the Metro 6 line, heading to the Étoile stop at the Arc de Triumphe. We came out of the Metro station to huge gusts of wind and the coldest weather we would surely endure on our trip. The Arc is surrounded by a giant rotary (or roundabout depending on where you're from), with at least eight roads coming off of it. Maria's goal was to take enough pictures, from enough angles, to create a full 3D model of the Arc at home. OK, a little hyperbole there, but we did take about a hundred pictures here, crossing the roads multiple times to get quite a few angles, including some with the Eiffel Tower in the background.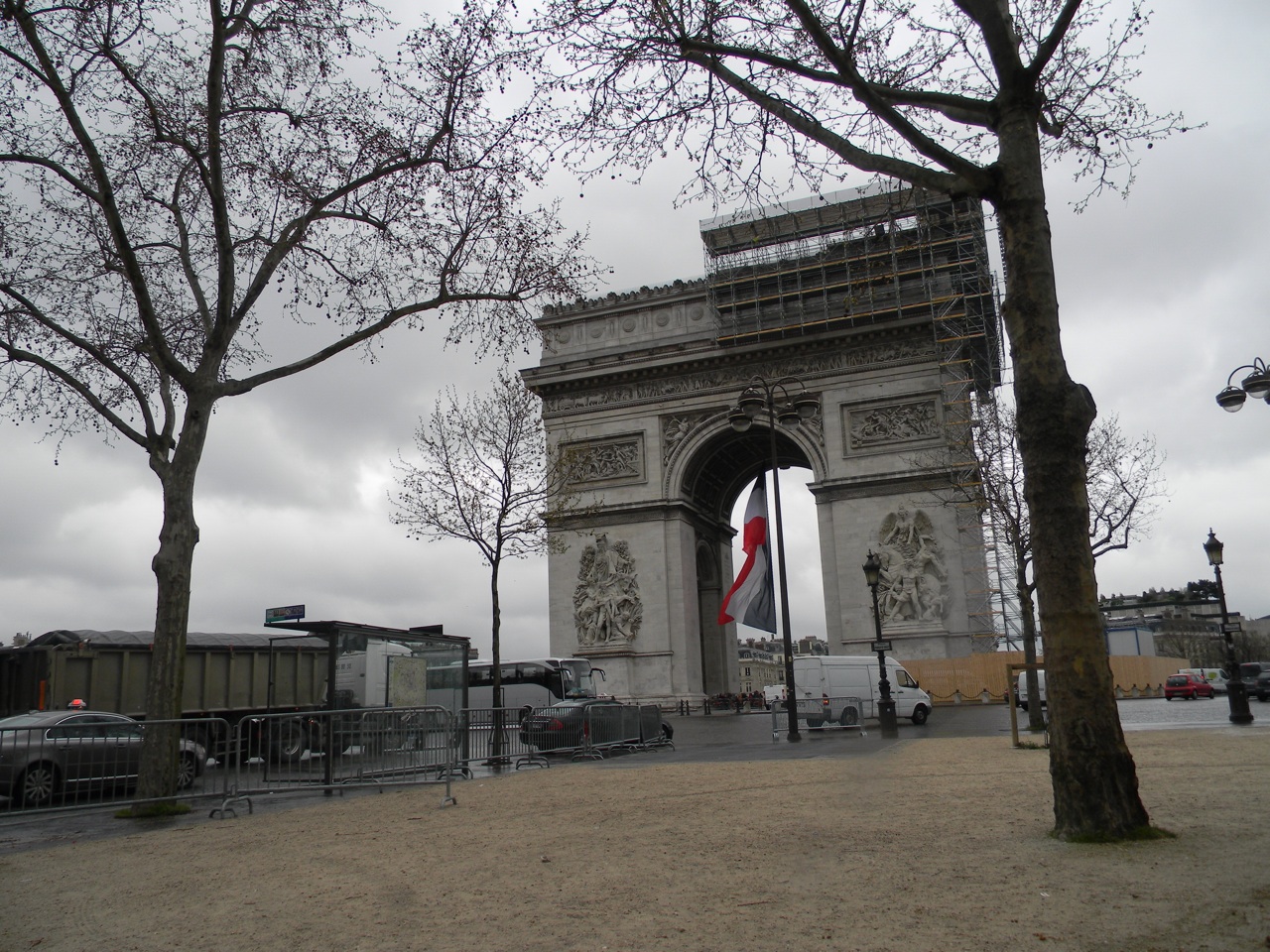 We then headed down the Avenue des Champs Elysées, a most famous street in Paris for its expensive shops and large walking promenade. We were getting hungry, so we ducked into a burger joint that had black lights and ATM-style ordering kiosks. We opted for ordering with a human instead, and enjoyed a little Americanized French food. Maria was able to win us a free burger with her mad scratch-game skills, so Neil was actually pretty full from lunch. (-:

We continued walking down the Champs Elysées, coming across a very nice floral park area and a strip of park space that must be bustling in the summer. In the chilly March rain, we did spot one vendor open, selling Nutella crêpes that Maria just couldn't pass up.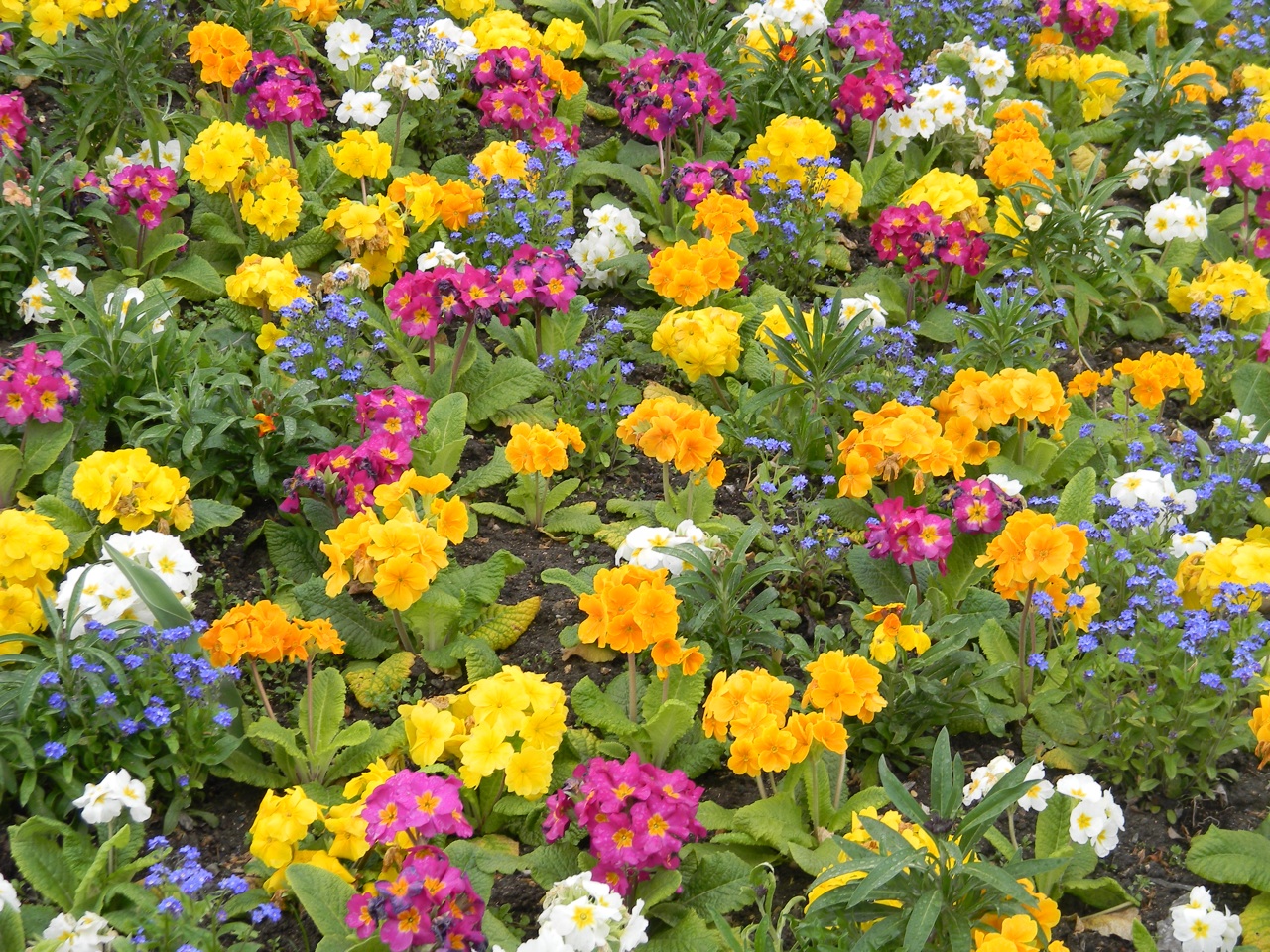 We finally arrived at the end of Champs Elysés, the Place de la Concorde (Concorde Plaza). An Egyptian obelisk, placed there by Napoleon Bonaparte, and multiple statues and columns adorn the Plaza, which is another large rotary where the Champs Elyssés meets the Seine River. This is the location of where Marie Antoinette and multiple other people from the French Revolution were beheaded by guillotine. (Little trivia here: guillotine were in use in France into the 1970s, but the death penalty was completely abolished in the early 1980s.)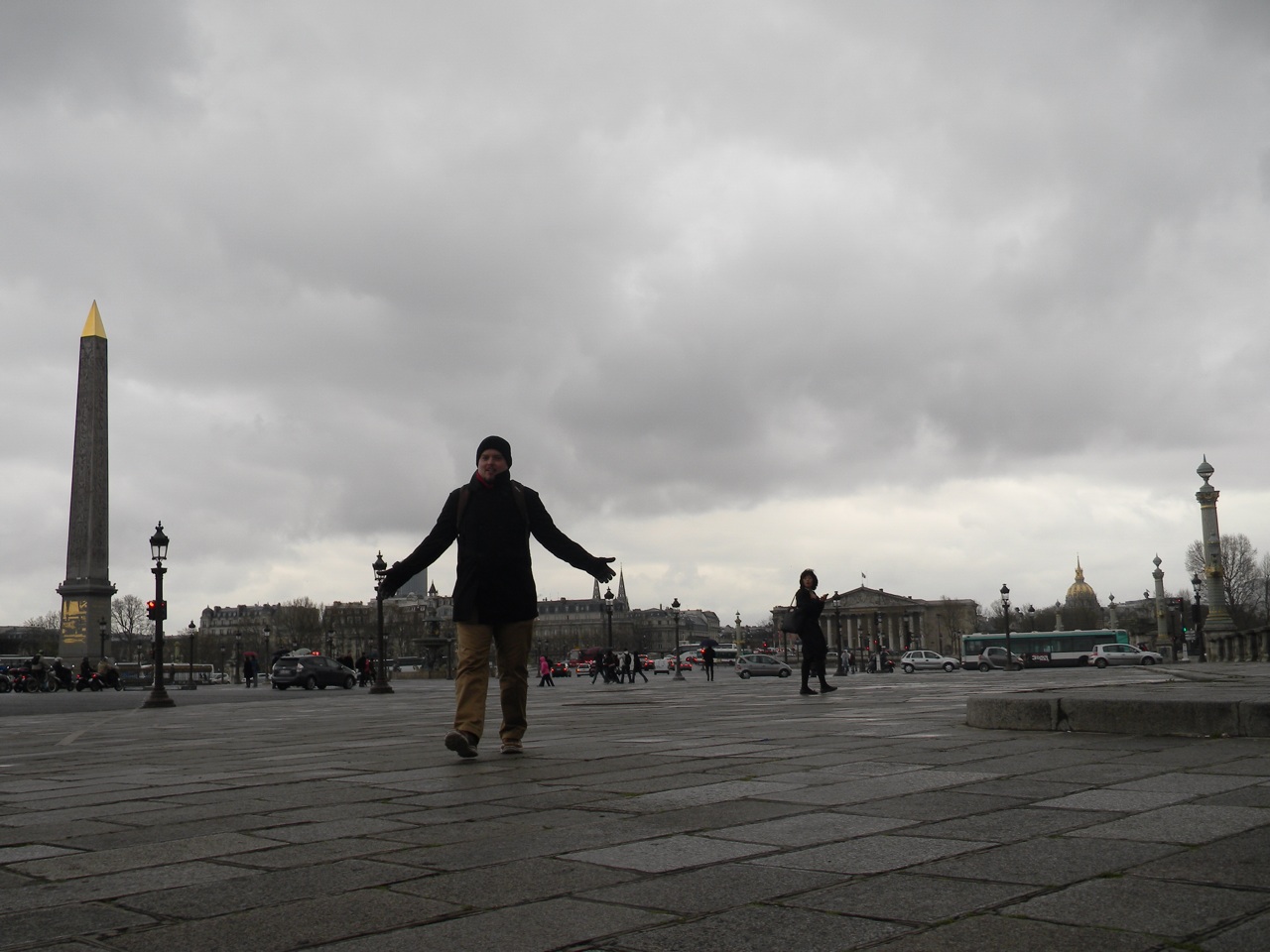 We did venture into the base of one of the statues on the Plaza and discovered some stairs there. We descended them to discover that there is a large parking garage beneath the entire Plaza, and that a few of the statues acted as secret portals to the paradise of parking spaces below. Above ground, we met Aya and Kameron to continue our stroll down the River to catch more sights.
We came across multiple foot bridges with a ton of padlocks hanging from the sides. A Parisian tradition is for lovers to hang a padlock on a bridge, then throw the keys into the Seine River to signify their unending love. This is a tradition Dharma and Julio followed the day before, but we did not find their padlock here.

Continuing our journey, we came again to the Louvre Museum. As Aya and Kameron hadn't been here yet, we walked inside the huge grounds to take a few more pictures, and again attempt to fully grasp the size of this place. I can only hope that if we saw this kind of opulent spending by our rulers today we would quickly put a stop to it.

At this point, Kameron was getting quite cold since he didn't have a scarf or hat, so we stopped by some souvenir shops to get one. We also decided to get a quick bite to eat before continuing our walk. Maria, Aya, and Kameron enjoyed some ham and cheese croissants, while we all got to warm up with some espresso and café au lait.

Our next travels took us across Pont Neuf, the oldest bridge in Paris. Across the bridge is a large island within the Seine River that houses multiple government buildings as well as a few churches. Our destination was to visit the most famous church we know, Notre Dame. This ancient church is over 850 years old and is a concrete behemoth. We walked through it while evening mass was taking place, apparently a quite accepted practice as we were but a few of the hundreds of visitors walking through. The inside is all concrete as well, and quite cavernous.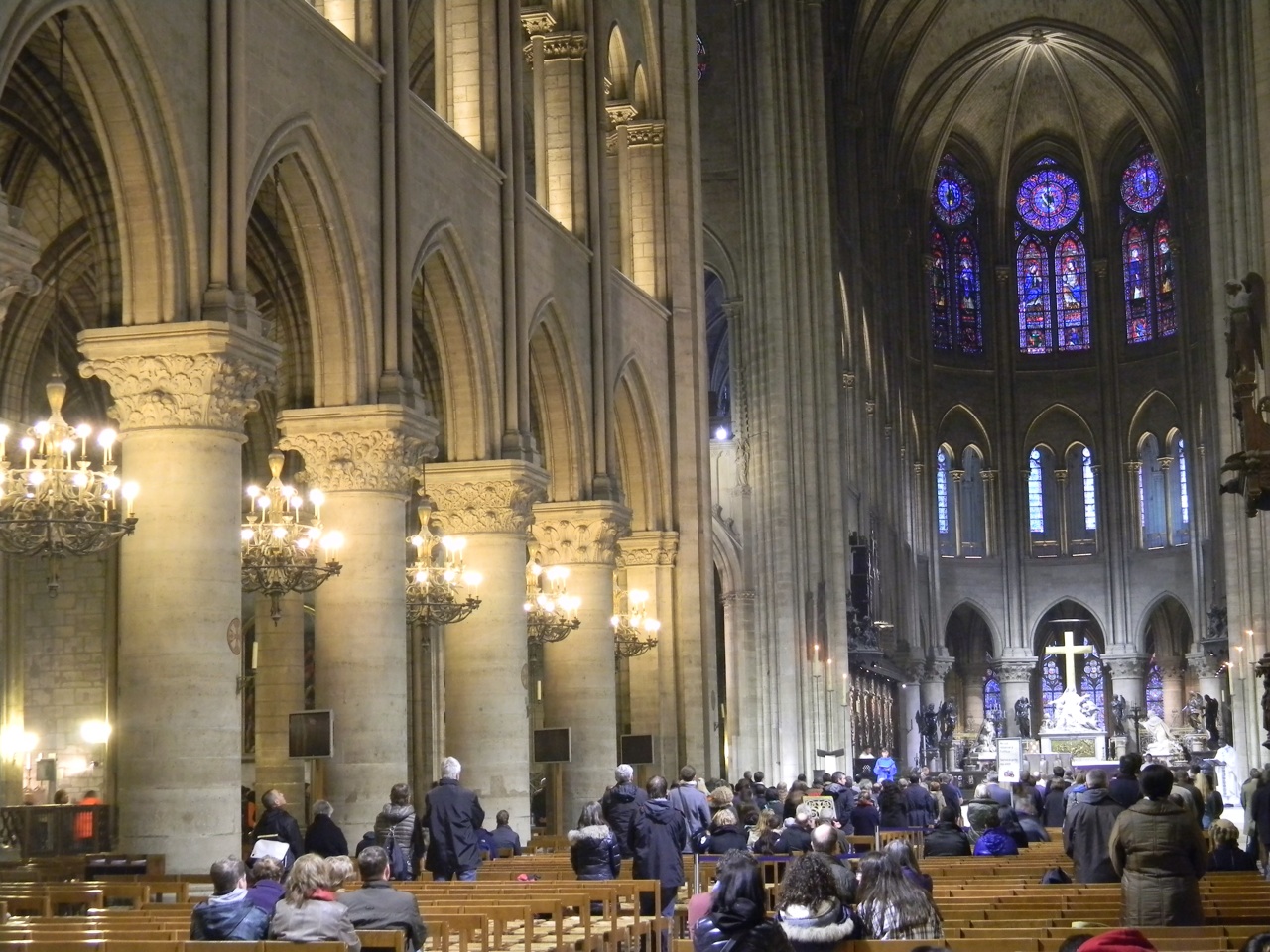 After getting some great pictures of the church and its interiors, we headed over to the river tour dock to check on departure times. The one about to leave was quickly filling with teenagers, so we opted for the one about 90 minutes away. We headed over to the Latin Quarter for some dinner. We must have strolled by a hundred different restaurants, and finally decided on Lebanese. We enjoyed some delicious schwarma with hummus, bobaganoush, and taboulleh. We followed up the meal with some Lebanese coffee and mint tea.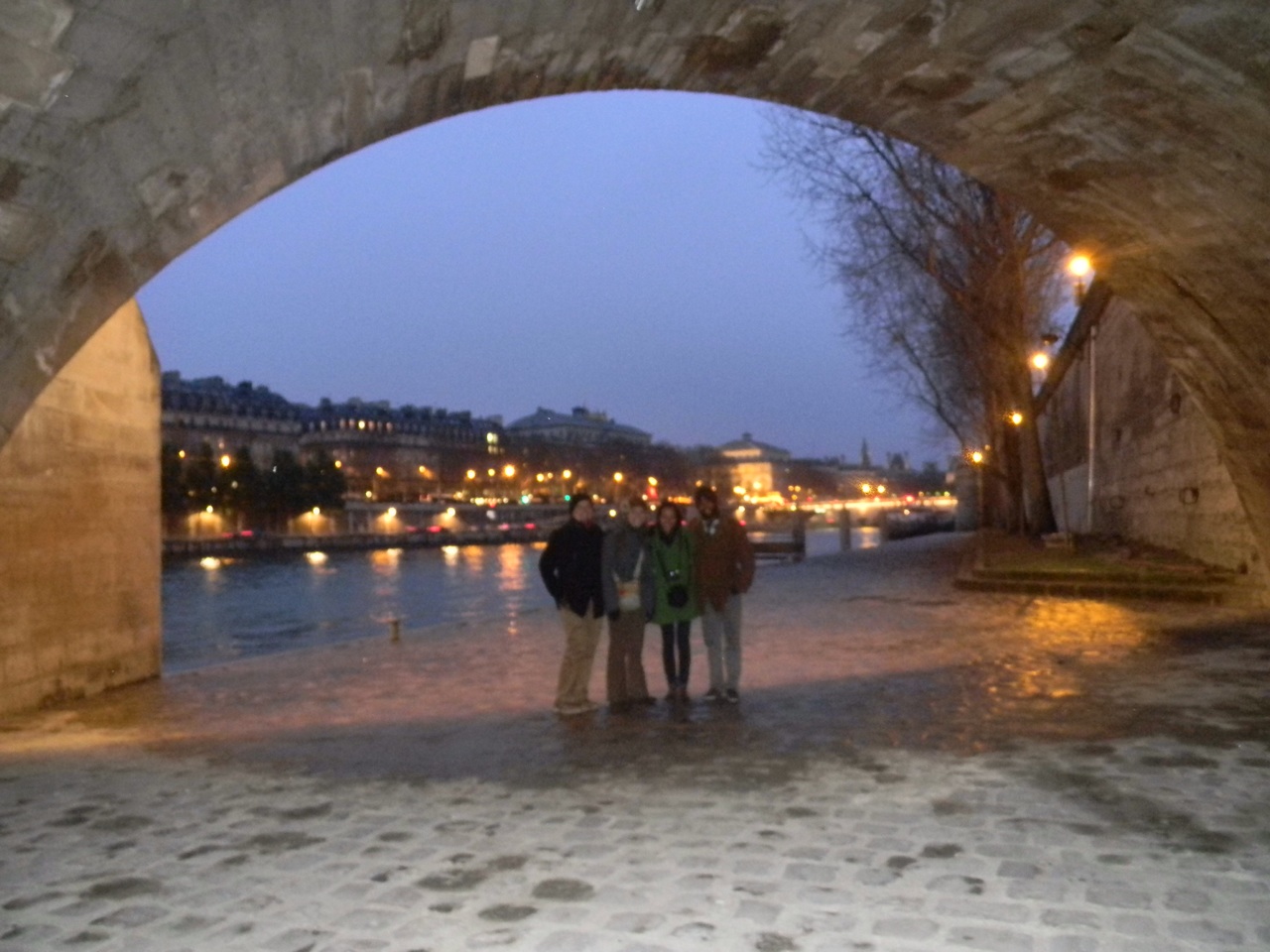 The four of us headed back to the river tour boat to start our night time tour of Paris. Seeing the city from the river was lovely as all of the landmarks are quite dramatically lit up at night. The boat only had about 20 of us, and the tour guide spoke fluent French and English. We also got a spectacular view of the Eiffel Tower and another plethora of pictures.
After the cruise, it was time to head back to our mini apartment, pack up and get some sleep. We said bon voyage to Aya and Kameron and walked over to the Metro.

See you in Arona, Italy tomorrow!
TravelPod Comments:
"I love Paris in the springtime!" Are you freezing? Where is Neil's "beret"?
I enjoyed the beautiful flowers and of course all the "sights". Can't wait to see Italy! From Mom B, on Mar 29, 2014 at 12:55AM
i want to be there.you guys are really enjoying life. bring me back a sea shell. ha ha From donna, on Mar 29, 2014 at 12:16PM