On the Train towards Arona, Italy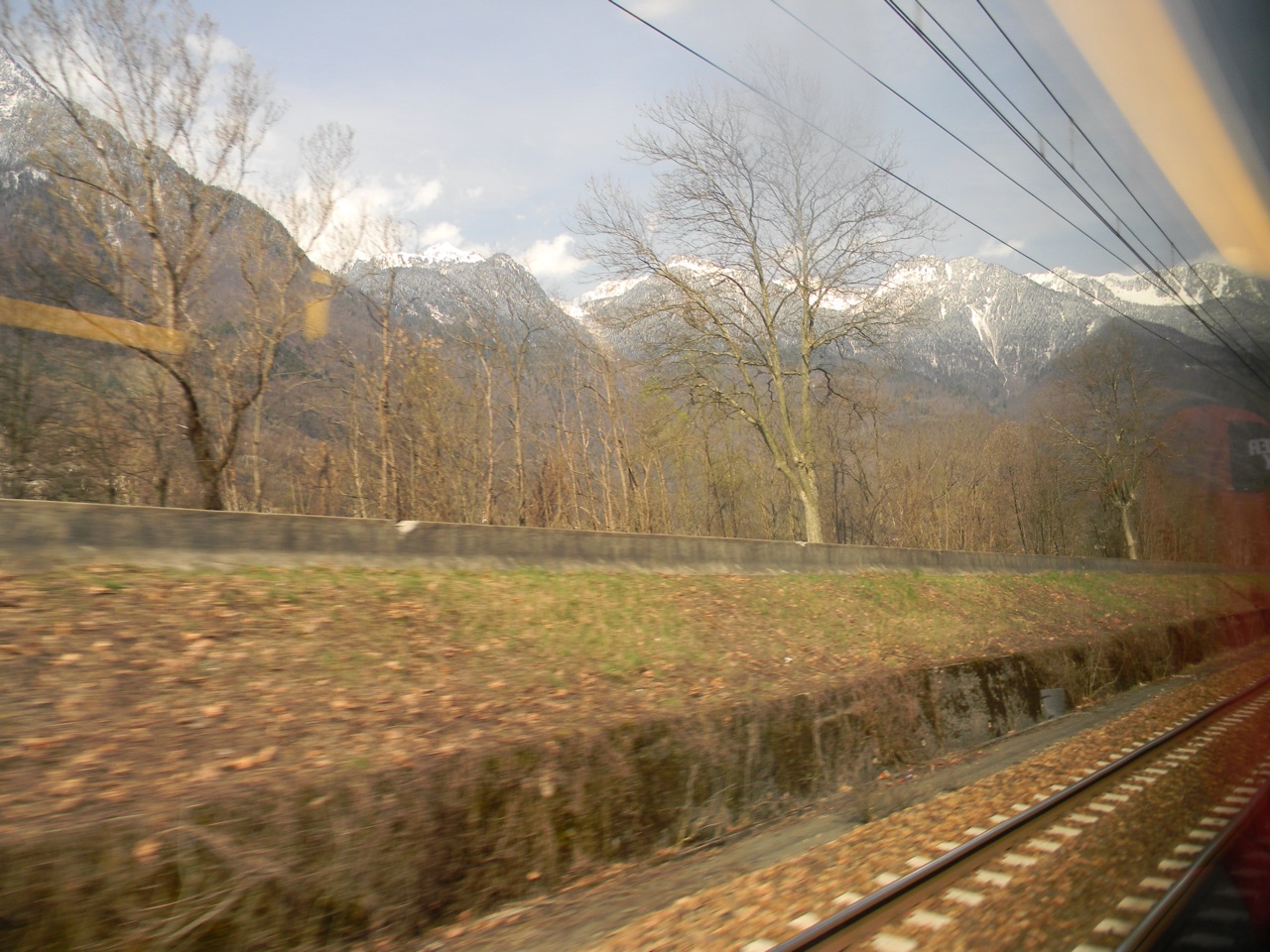 Previously posted as part of the Travel Pod Series "Furry Beard Hops the Pond" on Wednesday, March 26, 2014
And the alarm was going off early, again. We had to meet the apartment owner to get our deposit back, catch two Metro lines to the main train station, and be on the train before it left at 07:00. Today we head to Arona, Italy, under the advice of a cheesemonger, named Davide that we met in San Francisco. "If you're ever in Italy, come visit us!" Okay cool, here we come!

The train was in excellent condition, and we moved swiftly through the beautiful French countryside. We came upon stone houses, chalets, green fields, sheep, and trains coming the other direction on the rails that would scare the crap out of us. Ninety minutes into the trip we saw our first vineyards, which slowly became the dominant crop we saw growing everywhere as we passed through the Boujalais and Rhone regions of France.
Unfortunately, it was a bit difficult to photograph the sights, with pretty scenes playing hide and seek as we passed utility poles, hillsides, and through tunnels. We were increasing in elevation as we came near the Swiss Alps, and the scenery became more and more dramatic visages of craggy, snow-capped mountains with ancient stone towns dotting the landscape. It was like a scene in one of Maria's Nono's 1000 piece puzzles.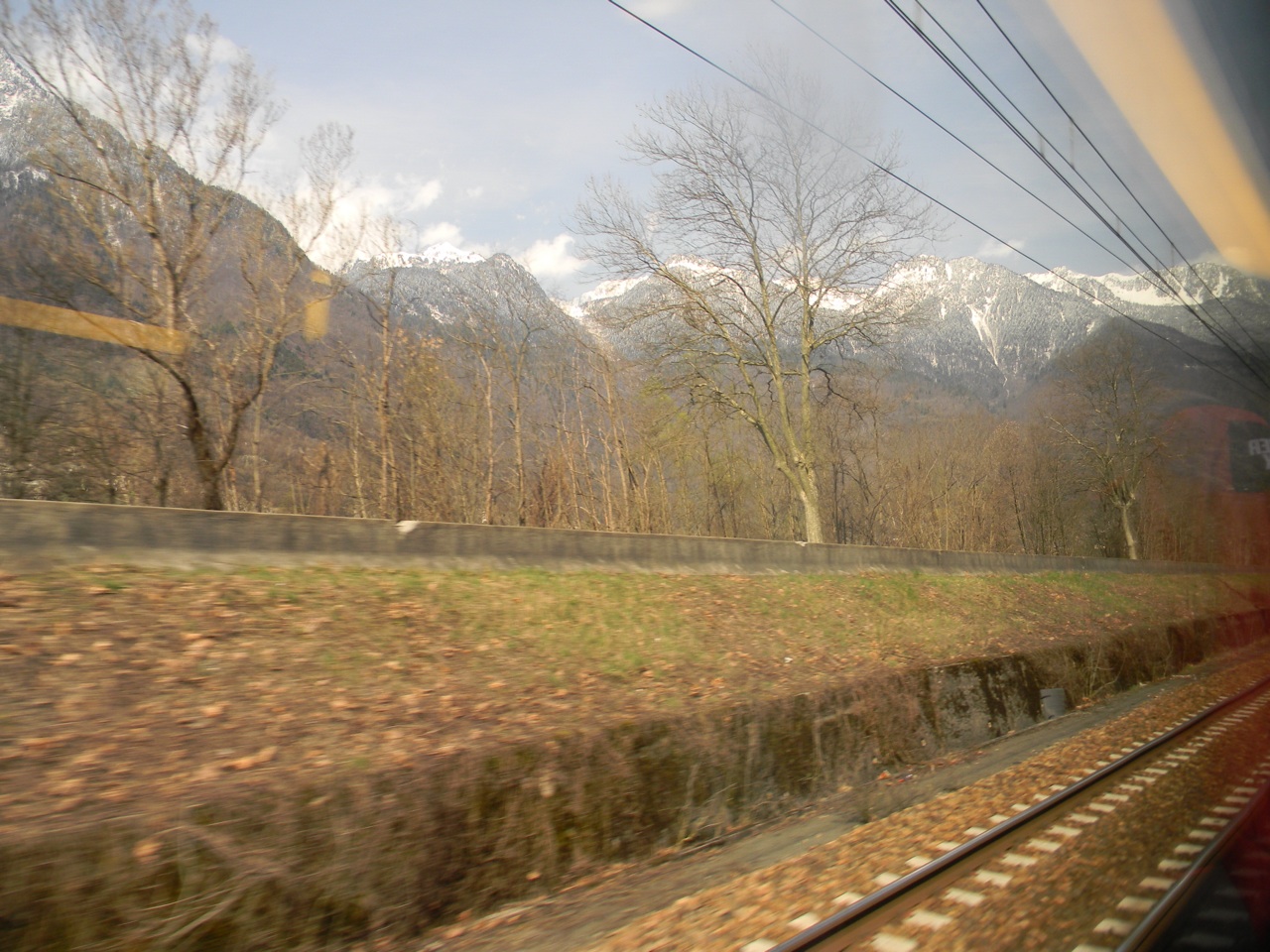 We proceeded through a long tunnel, with very short glimpses of the outside, and then finally burst into a snowy village with flurries all around us. "Bienvenue a Italy. Bienvenuti a Italia. Welcome to Italy," came over the PA system. We had made it! We then peeked more wonderful scenery, including a waterfall and tall pine trees.

As we passed through more tunnels and by spectacular vineyard views, we started a tasting of wine and cheese. What better place to have this experience than on a train passing vineyards! After our wine and cheese, we wrapped up the meal with some salami, prosciutto, etc and some sparkling water, very popular here.

The train route continued through a huge glass station in Torino, passing a nuclear power plant, castles and churches. What a big variety of things to view! We did notice that in Italy it was more urban, populated, modern and somewhat depressed compared to what we saw in France.

After a quick lay over in Milan we reach our destination. Having no idea what type of town/city/country to expect we come out of the Arona train station. We soon found out Arona is a seaside vacation town for Milan. It kind of reminded us of Bayshore avenue in Tampa, the Embarcadero in SF, or another major road on the water with nice homes wherever you live.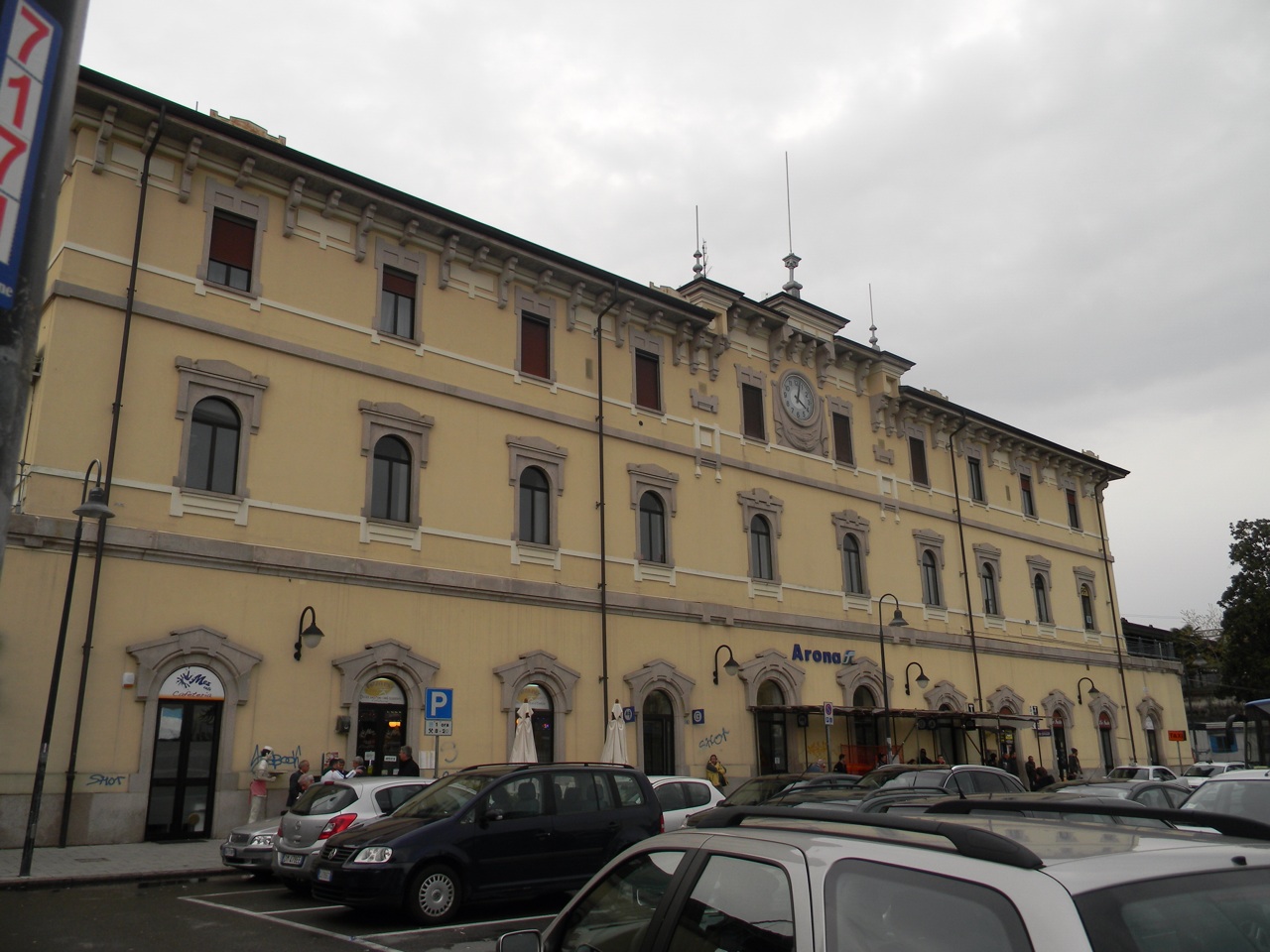 Hotel Giardino came suggested from Davide and provided a welcome happy hour with wine, works for us. After our accommodations in Paris, our room was a behemoth, with large bed, full bathroom, a desk and tv, a great home base.

Another suggestion our host had made was Taverna del Pittore, a fancier restaurant with beautiful food porn on their website. Excited to get that meal started we found our way through the town over to the restaurant. When we arrived, it was obviously not open yet, hmmm when does dinner start? Lets do some more exploring, Lake Maggiore, La Rocca Arona, and the cool designer clothing alley.
Might as well go back to hotel for happy hour. Met some Americans, drank Dolcetto and anxiously waited for our gourmet experience. We were able to hold out until around 8pm when we assumed other guests would be at the restaurant. The chef greeted us and suggested the Speciale Oggi, a grand 7 course meal with wine and dessert. This is what we came for so pretend you don't see that 75 Euro price tag.

What followed can't really be imagined or captured but we'll do our best. To start, sparkling wine and a raw salmon dish reminiscent of sushi. The second course, a new menu item, puréed broccoli and cauliflower with scampi on the top. This dish was amazing and immediately made an impression on us, trying to imagine how we can make it at home. Now knowing, Neil and I, you may know that our favorite celebratory meal is salmon and broccoli or cauliflower so we are instantly sold. Oh wait, 5 more courses to go!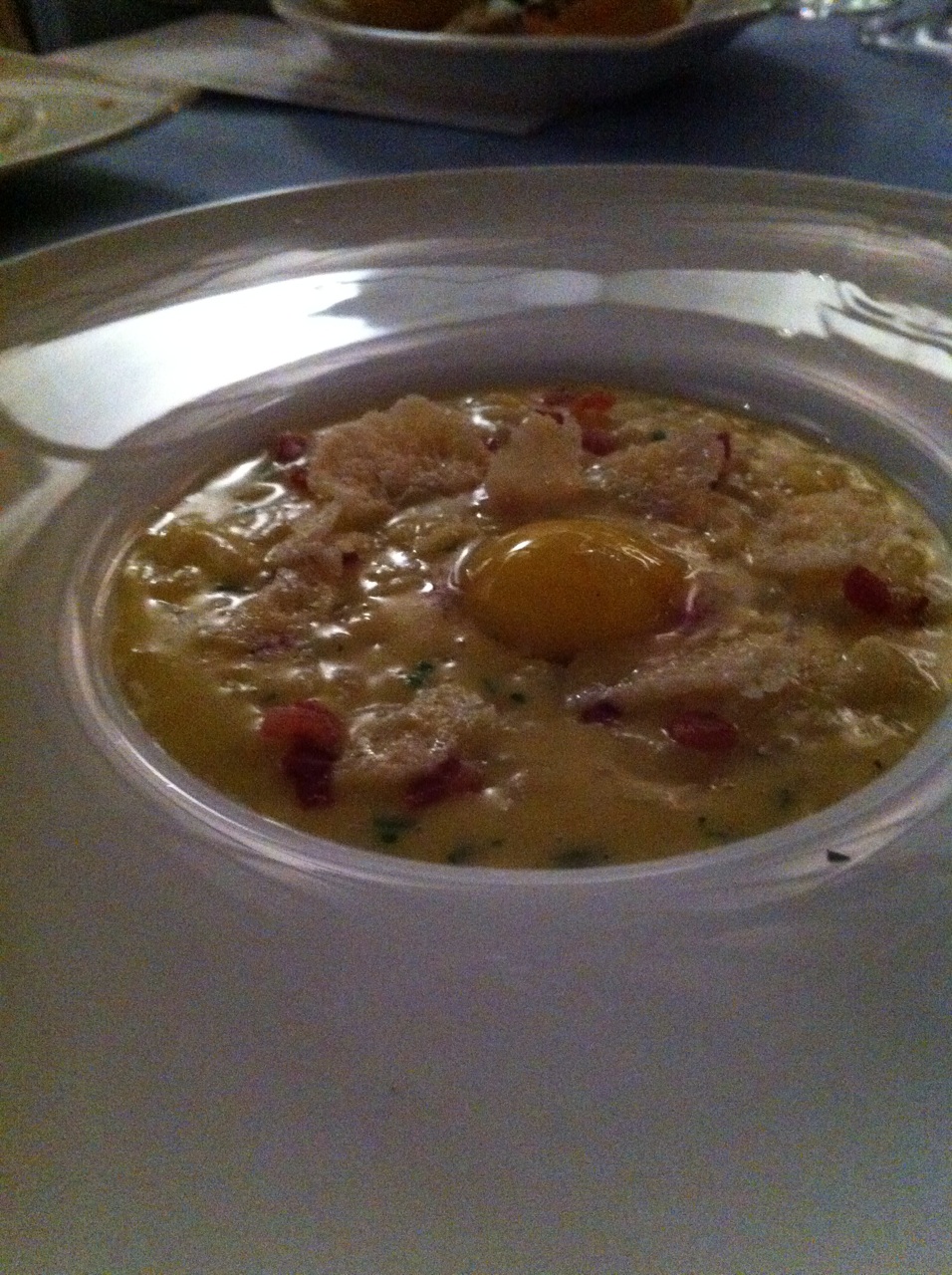 Now we are drinking a white Italian Sauvignon wine that smelled like tropical fruits and tasted like grapefruit, it paired nicely with the scallop over shredded vegetables that followed. Oh and did we mention we had a personal sommolier pouring the wine for us? The next course was lobster ravioli in a saffron sauce. Neil usually is not a fan of ravioli but come on, lobster makes everything better! The decadence continues with bacon flavored risotto that Neil couldn't stop talking about and then a seafood medley. It is probably relevant to mention that each plate was similar to tapas so we didn't feel like we were gorging ourselves.

We've moved onto a Nebiollo wine with anise and an earthiness for our final course. Lamb medallions, over potato slices, coated in pistachios, perfecto! We felt like the selection really was catered to us because it was focused on seafood and lighter foods, not a giant steak etc. As if all that wasn't enough, the Moscato based dessert wine and tiramisu arrived. Well obviously that was delicious, oh and here's a cookie platter too.

The chef and staff were so gracious and we couldn't believe we had been eating for 3 hours straight but Maria, the food goddess, was in Heaven. We joked that this would be our celebration of this wedding anniversary and next year, but seriously, it was wonderful and totally worth it!

Back in the room, we attempted to go to sleep with all that yummy food in our bellies.
 TravelPod Comments:
"What the heck is that bowl of?"
From Donna, on Apr 1, 2014 at 08:25PM