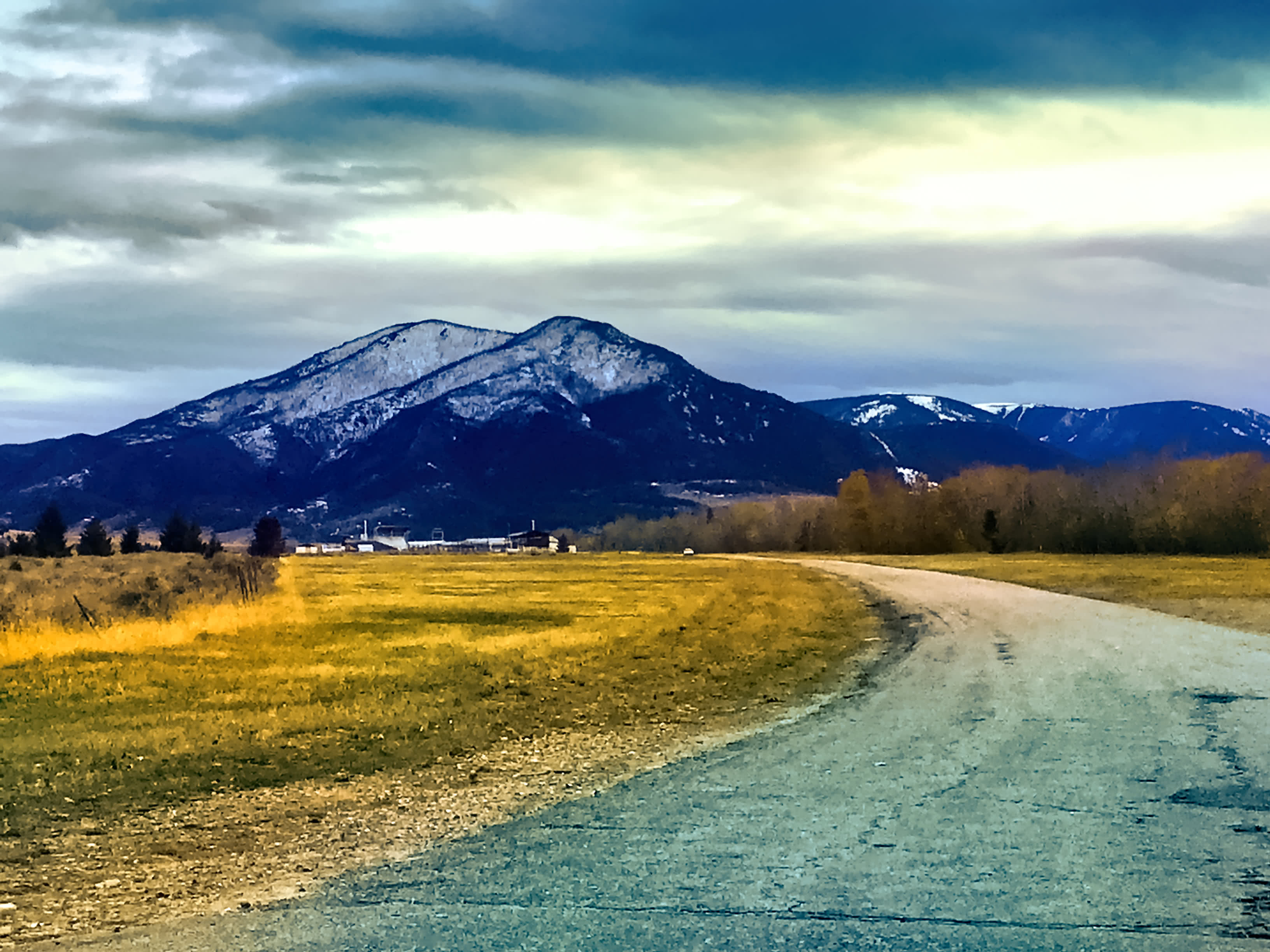 When we were getting ready to leave Pennsylvania, we really didn't know where we'd head next. Of course, many of you know its about the time we usually go to Costa Rica but both of us had to renew our passports for another 10 years, so we were grounded! Was there a place like Costa Rica in the US that we could visit? Not necessarily tropical but a small population and beautiful scenery?
After much research, we determined that Montana could fit this description. Also it's a place we've never been so that instantly puts it high on the list! It sounds funny but we also wanted a place where we could do a few things, but there wasn't a giant number of things we'd want to do, just in case the COVID19 numbers flared up and everything shut down. In other words, it couldn't be a place that we've been really looking forward to just in case it ended up that we were sitting inside the whole time quarantined.
All things considered, Billings, MT was discovered. It's the most populous part of Montana, with easy access to the airport, parks, groceries and a downtown with restaurants. We booked two different airbnb apartments for a month each. We figured our passports would definitely be wrapped up by then and we could go to Costa Rica next.
The apartments were just a few miles apart from each other so we'd easily be able to get from one to the other when it was time to move. One catch was that we couldn't book them back to back, there was a "gap" weekend in between where we didn't have lodging. We wouldn't be renting a car during our two months in Montana but we could easily rent one just for that weekend.
So where would we go then? Well as already stated, all of Montana was new for us, but so are Idaho, North Dakota and South Dakota, the bordering states. Should we drive to one of them? Not after mapping it, we'd be looking at around 4 hours minimum and then we'd just spend that weekend time driving. During our first few days in Billings, we got a bunch of recommendations of nearby places to see. On that list was Red Lodge, MT, a cute little mountain town about an hour drive away. Sounded like just the place for us! So we hopped on Booking.com to quickly search for a place to stay and found something affordable and very "Montana-esque".
To get there, we rented a car through Turo, an app that really works out well if you only need a short rental and you want to have your choice of cars. We'd need to pick up the car over near the Rimrock Mall so Neil took the short bus ride over there to get it. We stopped for a quick coffee nearby and were on our way by 1pm.
The drive was so pretty! Since we're staying in Billings, a "city", we were feeling a little like we've been missing out on the beautiful Montana scenery, but this trip made up for it. Maria was obsessively taking photos out the window and despite the frosty air, took a few with the window open so we could capture all of it without glares or smudges! Thanks to Neil for being our chauffeur so I could get all those pics!
We had been given the heads up that most of the downtown shops close around 4 so we hit the ground running when we arrived. No time for lunch, but luckily we had some leftovers from the night before to grab n go. One of our first stops was the Red Lodge Drug Store, just because it promised to be an old-timey experience. Lots of souvenirs and gifts there so we were happy we stopped in. There was also a candy shop on our list, Montana Candy Emporium, that specialized in Huckleberry (the local fruit here in Montana) candies, jams and sauces! We got a bag of goodies and then continued on. A few more souvenir shops and local goods and then we could go check in to the Red Lodge Inn. 
I was attempting to craft a true Montana experience so the Red Lodge Inn seemed like a perfect place to stay! It had wood paneling, it was small and definitely felt like a lodge. We unloaded the car and rested up a bit before we'd go find some dinner. Another reason we chose this hotel was because it was right at the edge of town and we'd be able to park the car and just walk back to downtown whenever we felt like it.
We had found a place for dinner when we were walking around town earlier, Prerogative Kitchen, a place with wine, cheese and small plates. We liked it so much we wrote reviews on Trip Advisor, and both our BBRB Instagram and Wine and Cheese Friday Instagram.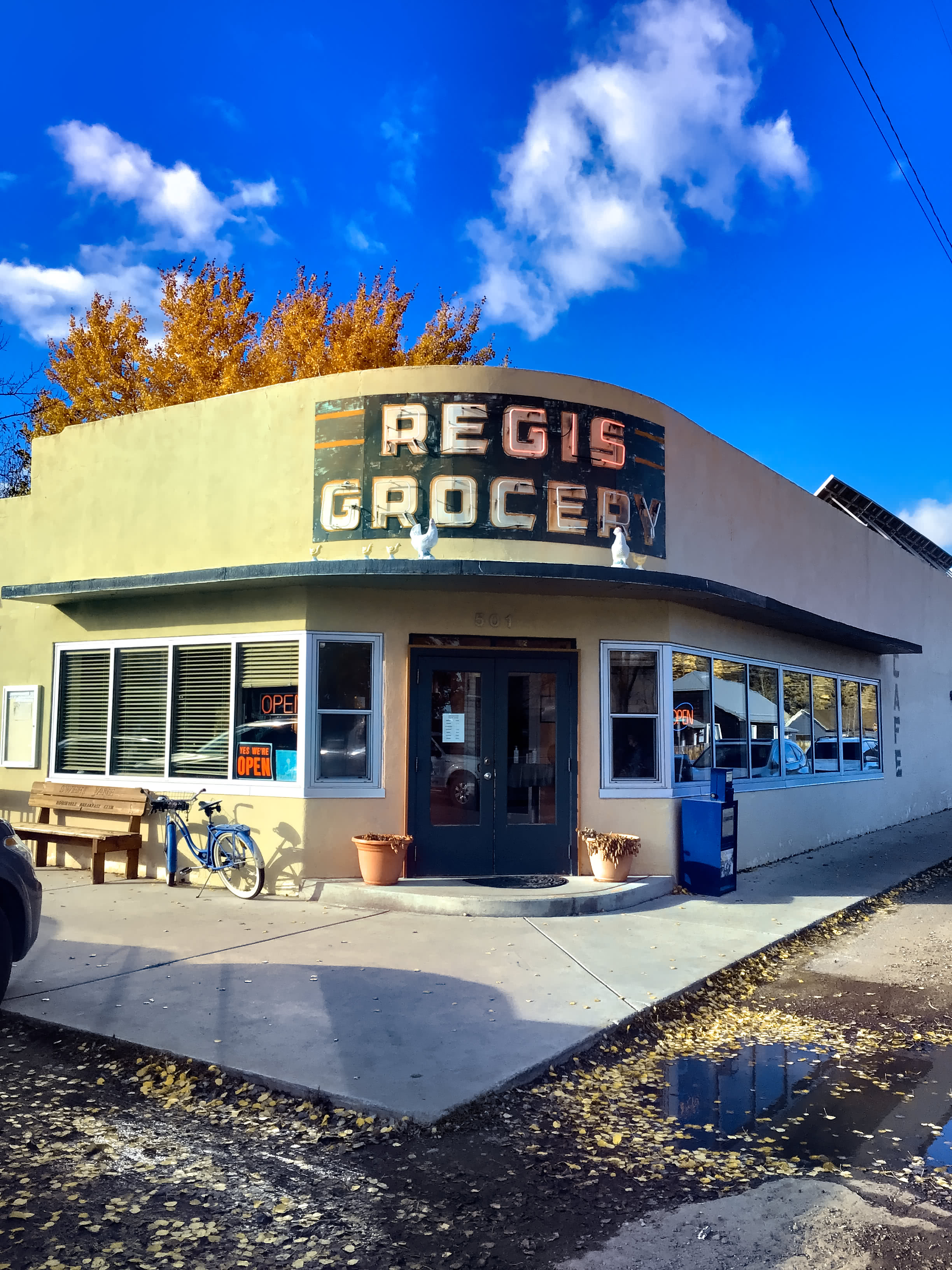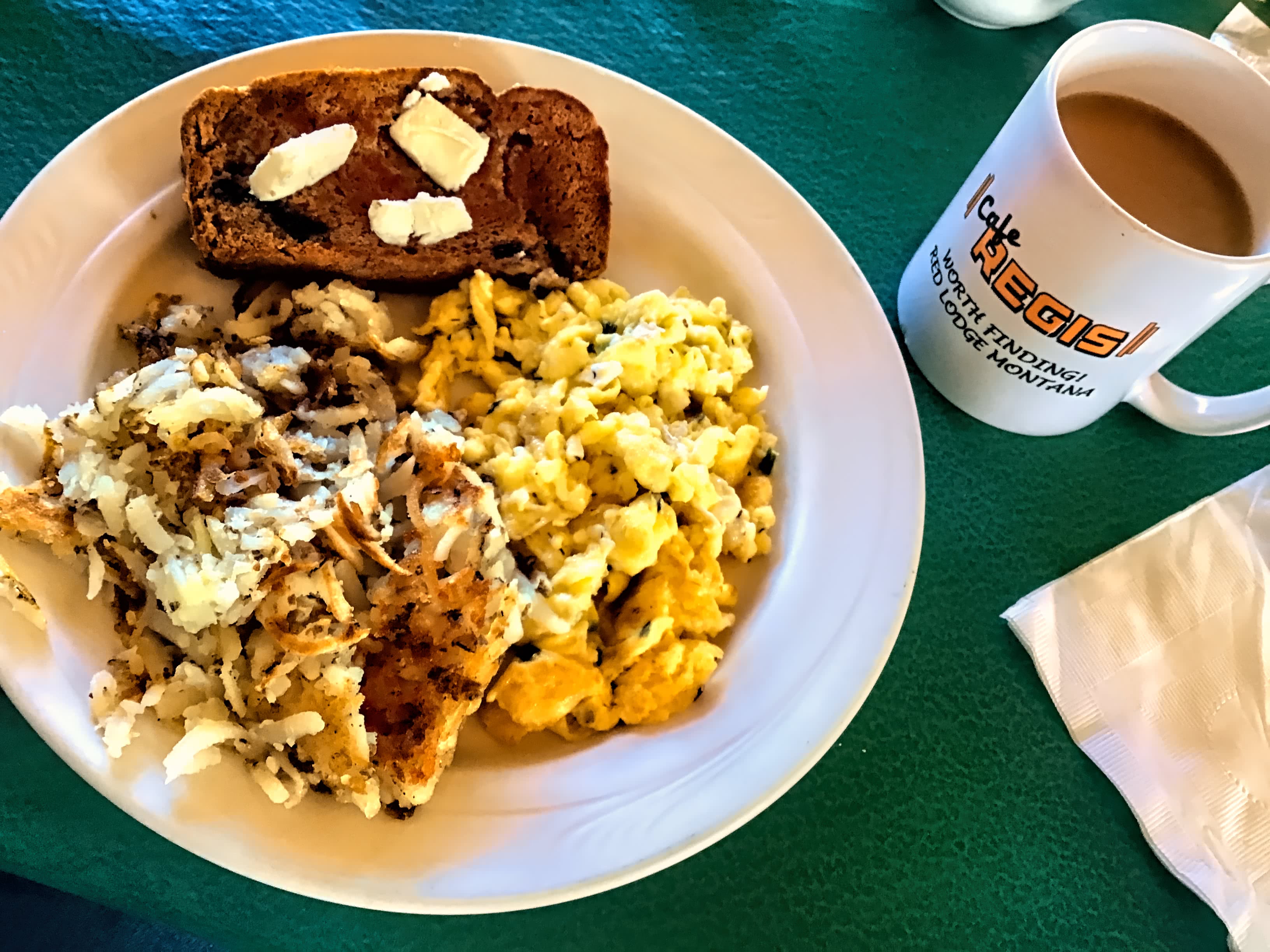 Sunday began at Cafe Regis, formerly the Regis Grocery, a cute art deco building that had gluten free options. Neil got a gluten free english muffin with his breakfast, I'd guess that was a first! I had the French Omelette that included cream cheese, dill and green onions, with a side of hash browns. Very tasty, but a little too rich after enjoying that wonderful dinner the night before. Since the building used to be a grocery store they had all kinds of old fruit crates and cute art as a tribute.
After we were sufficiently full, we went over to the Yellowstone Animal Sanctuary. It was pretty freezing that morning but I wanted to see all the animals native to the area. I figured leaving that up to chance wasn't enough, I was determined to see a bison! The animal sanctuary is filled with animals that couldn't be released back into the wild and it reminded me of the Ecotarium where I worked in college in Worcester, MA. 
The Sanctuary website suggested getting there when they first open in order to have the best chance of seeing the animals. We got there about an hour later but the first habitat had wolves and they were both out so we were off to a good start. As we moved through some of the exhibits, the animals were hiding out in their homes so we missed a few but we thought it was pretty funny to see the big slab of meat waiting for the mountain lion. Then we got to the part with the bison and the one named "Speedy" was right there! I was so excited, tons of photos ensued and then we realized there was a second one in there too. He didn't have a name but was quite a bit larger than Speedy!
Off in the distance we could see the bear exhibit too, but it was kind of barricaded off. Once we got up to that part we found out that the bears would soon be hibernating. They were off limits so you didn't stress them out. We made our way quickly past them and found the bird section. I thought it was pretty hilarious that there were crows and ravens on display but it was relevant to help distinguish the two birds from each other. Also to tell the story of how the Crow Native Tribe was misnamed. 
Neil was especially impressed by the raptor section. Eagles, multiple hawks and owls, oh my! I thought the Ferruginous Hawk was especially pretty but was having a hard time getting a good photo. There was even a Sand hill Crane, that we are familiar with from Florida. He was pretty active while we were there. We finished out our time in the gift shop and were ready to hit the road. Definitely a worthwhile trip to see the bison!
The other thing that caught our eye when exploring what to do in Red Lodge was the scenic route on Beartooth Highway. Unfortunately they close part of it once it gets cold out, so there was only about 12 miles available for us to see. We figured it was still going to be beautiful and we had that sweet Mercedes Benz to cruise around in. So off we went!
We already told you how nice the ride to Red Lodge was and we were not disappointed by the Beartooth Highway. Although we would only be enjoying the abbreviated version, there were so many mountains! And we were driving through park land so there were some pull offs to check out the streams, fall leaves and all of the mountains! 
We spent about an hour driving the scenic route and it was so peaceful! We'd highly recommend it even if you would only be able to do the shorter version like us. We grabbed a small lunch because we were still full, and then went back out for more exploring around the edge of town. More beautiful scenery, and views of the entire town from above!
All that was left for us to do that day was eat again :) Yup, that's what we do! So we headed back to the room to hopefully digest and hang out until we were hungry again. It gave me some time to start looking through my pics and create those reviews for Prerogative Kitchen. We really didn't ever get hungry but figured we'd go find some tacos. They were pretty good but unfortunately the sides were pretty bland. I think our taste buds were getting worn out!
We'd head out the following day, Monday, but there was some time to finish exploring downtown since we couldn't check in to our next place until 3pm. We visited the antique shop and then went to Babcock and Miles for some wine and cheese. I ended up writing about our fun experience there on my Wine and Cheese Friday Instagram account, check it out!  I think we spent around an hour there, definitely our kind of shop!
There was an art gallery that was in the old train depot, so we stopped there before leaving Red Lodge. Seeing all the local art is always fun! My favorite pieces were animal wall hangings made from wool kind of similar to latch hook. Of course we took pictures of the old train and depot itself. One of the plaques inside said that the town of Red Lodge was developed in the early 1900s when the train came to town. 
Such cool history and all of the buildings positively showed their age with tin ceilings and exposed brick. Had a great time in Red Lodge; it was a perfect way to spend our time outside of Billings and find all that wonderful scenery. We were actually enjoying that part of our trip so much that we found more places to drive once we left the art gallery. The map took us on another old road filled with farmland with cows and horses. And yes, we took more photos!