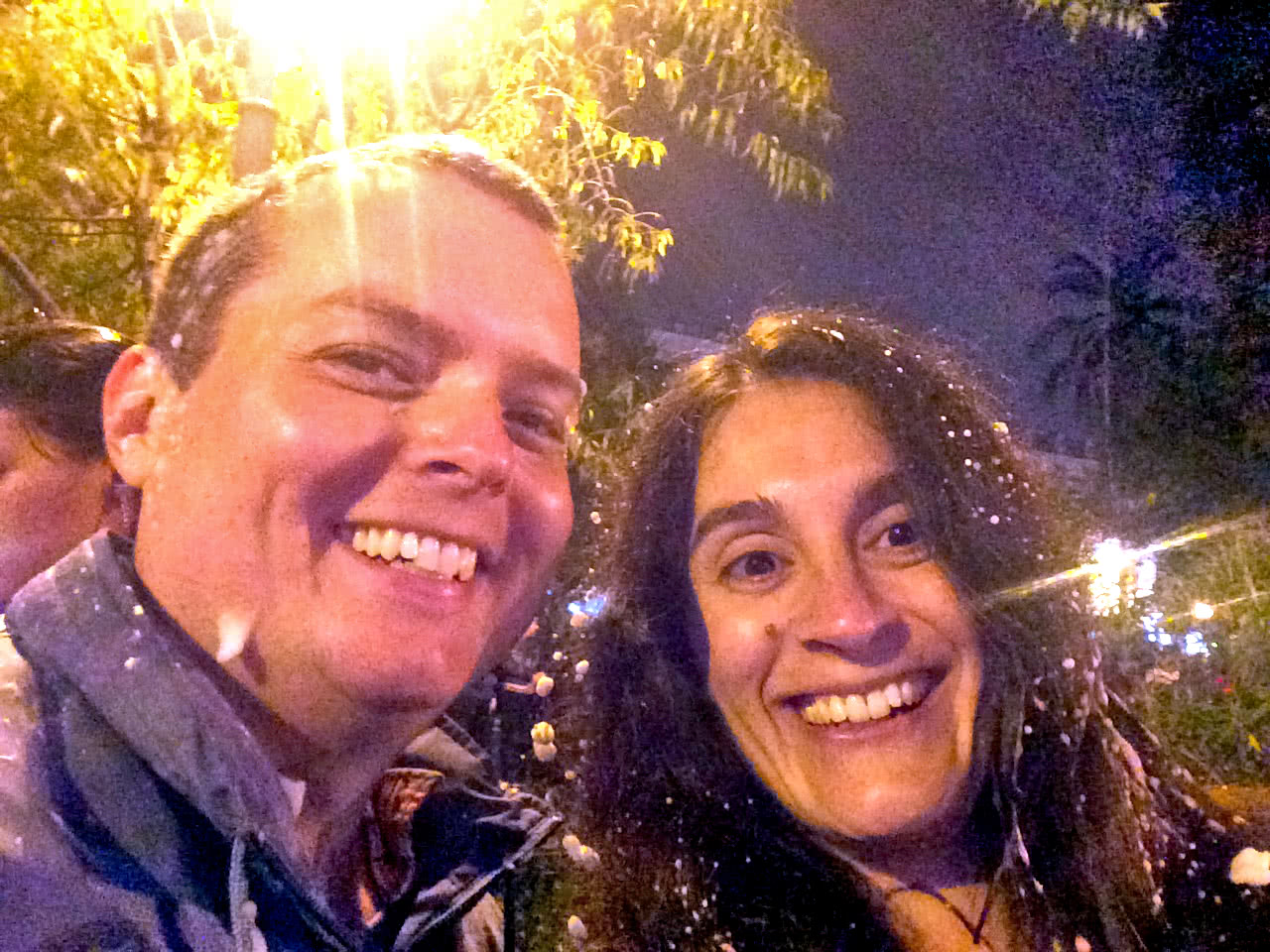 Our February began with Carnaval celebrations!
If you're Catholic then you've probably heard of the celebration that happens just before lent begins. New Orleans is known for their Mardi Gras Parades, but in Latin America it's a little different and lasts for more than just one day. If you want to read about the origins and traditions of the Carnaval holiday, check out this other article we found: https://notyouraverageamerican.com/celebrating-carnival-ecuador/. Here's our recount of how we celebrated back in 2016.
Thursday night we could tell there were a lot of people out and about so we headed down to the main square with the Old and New churches. We had heard that during Carnaval, people spray foam, use flour and confetti and water guns to aid in their celebrations. When we were in the grocery store, we had seen the giant cans of spray foam that seemed like shaving cream but we didn't think we needed any of our own.
Then as we arrived to the square that Thursday night, we found out we did. It was a sight that you can't imagine! People all over, crowds and crowds of them, all smiling, laughing and squirting each other with foam, as well as throwing flour and confetti. Although we were unarmed we took a walk into the crowd. Some people were hesitant to have us gringos join in, others sprayed us with no problem. Within probably 5 minutes, we were each coated in foam too. It was so silly, that I kept laughing as we walked around and ended up getting squirted in the mouth a few times. I think we lasted about an hour and then went back to our apartment.
The next day, we took a day trip out to Turi, the nearby town, up the mountain, with great views of Cuenca. We found a tiny restaurant serving one meal for lunch, pork soup and happily joined the locals for a meal. There is a church in Turi, just like most parts of Ecuador, so we headed inside to check out the art and architecture. Across from the church is a hiking path that winds up a hill. We made our way up the path passing religious statues and enjoying the views of the city. It was a nice break from our routine.
On Saturday, there was a Carnaval parade. This time, we made sure to bring our own cans of foam. The parade had many dance groups, some bands, native people with animals, and yes FOAM! We found our spot on the parade route and it was so funny to see all the spectators spraying those in the parade. And then the people in the parade sprayed the spectators. It was another messy day but we had our cans armed and ready. We felt like little kids that were giddy and kind of impish, just spraying the passersby. Somehow, we made our cans last quite a while.
After all the fun and festivities of Carnaval, everything in the town stopped. It was really eerie! For the next three days, nobody was out. The stores were closed, and it was quiet. We weren't really prepared for this so we had a hard time rounding up some food during this time but don't worry, we found a vendor on the street roasting a pig, so we had some of that!
The fact that things slowed down, kind of worked in our favor because we had a lot of planning to do for our next leg of the trip. There were a few supplies to be ordered and shipped to Aunt Kathy's since we didn't really have any way to receive things in Ecuador. We also had Neil's mom, Linda round up all our mail from the 2 months and send it to Aunt Kathy's. Funny how often we need to take advantage of shipping services throughout our travels!
For those of you who are curious how Maria's Wine And Cheese experience was enhanced by Carnaval, read our entry from the trip out to Sumac Sisa just a few days before this BlueBag RedBag entry takes place: http://wineandcheesefriday.com/tour-at-sumac-sisa-chilcatotora-ecuador/ There's more dancing, singing, flour and guinea pigs, as well as a cheese tour!